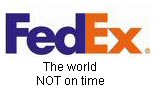 Federal Express has an image that it is absolutely, positively reliable. I just had an experience that put the lie to that image.
This is important for lawyers and marketers, because we regularly need to overnight documents that must arrive on time.
My son and I are applying for a student loan. He sent by Federal Express a promissory note that he and the university had signed. I needed to sign it to and he sent me the document by Federal Express.
A mystery arose when the document never arrived. My 22-year old son wrote me: " I used the tracking number online, and the original envelope was just sitting at a station in Schaumburg, 10 days after I sent it. I called corporate Fedex about this, they said someone would "call me back," which never happened."
This is the worst customer service, ever. We'll be using UPS from now on. For you regular FedEx customers -- you've been warned.