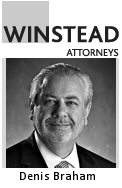 The Houston Chronicle reports that the long-running trend of law firms to shorten their names is continuing.
Sutherland Asbill & Brennan is now "Sutherland."
Winstead Sechrest & Minick is now "Winstead."
McMillan Binch Mendelsohn is now "McMillan."
It's it's happening with increasing frequency, especially among the top 100 firms in the nation — to go by only one name, as Skadden, Howrey, Dechert, Orrick, Pillsbury have done. Just like:
Cherilyn Sarkasian LaPier is "Cher."
Madonna Louise Ciccone is "Madonna."
Prince Rogers Nelson became "Prince."
"We have to be cautious. You can't go too far with this. We aren't, after all, travel agencies. We don't put people on safaris," said Winstead CEO Denis Braham, who practices in Houston. "We have an advantage, Winstead has the word 'win' in it," he said. You can't guarantee results, he said, but you can highlight the first three letters of your name.
The ultimate in shortness is Vinson & Elkins, which is known by merely its initials: V&E.