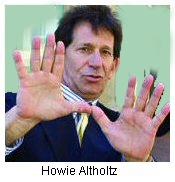 One Boston lawyer is looking for Boston's hottest attorneys, reports the Boston Business Journal, all to provide legal services to the poor.
Howie Altholtz, an entertainment lawyer and marketing director at the Boston-based law firm Ruberto, Israel & Weiner has begun soliciting submissions for the first ever "Beautiful Lawyers Calendar," a glossy pinup that will feature gorgeous local lawyers and judges for each month of 2009.
The beauty contest is all in the name of charity, as proceeds from sales of the calendar, which will cost $19.95, will go to Greater Boston Legal Services, a nonprofit that provides free legal services to the state's poor and disabled population.
"I wanted to do something that would raise money for a good cause," Altholtz told the Business Journal. He who works on the project in his spare time. "It will take the edge off the image of lawyers. It's about the style and spirit of lawyers. It's not about superficial beauty."
Massachusetts Lawyers Weekly, which is running ads soliciting applications and nominations from the legal community. The print ad asks, "Do you know a beautiful lawyer? (Yes, we're serious... )," and directs readers to the Web site, www.beautifullawyers.com.
Lawyers will pose in one serious photo at work and one "tasteful" photo of them participating in an outside work activity. One example given is a sailboat setting. Will we see any lawyers in bathing suits? Altholtz isn't shedding 'light on the potential' for legal briefs.
To date, Altholtz has received about 25 submissions and applications.