Larry Bodine Law Marketing Blog
Internet on Fire about Social Networking Article
Shucks, I didn't mean to cause a fuss when I wrote the article Where to Focus With Social Networking for Marketing the Law Firm Newsletter. It was a typical piece with nuts-and-bolts how-to practical advice that I usually write. Everything exploded when Law.com put it online at http://bit.ly/vHnX9 on September 22.
The next thing I knew it was all over Twitter, being discussed in blogs and commented on by readers. In the 1,455 word article, what set the flames afire were the 184 words I devoted to Twitter. I dared to contradict the relentless hype that Twitter is great for business development -- even though a brand new study found that only 4% of in-house counsel (i.e., the customers) use it.
People tell me I've "created a brand name" as the Twitter-basher. Golly, folks, I'm not carrying water for any brand of technology. I just read the studies, research and reports and set forth the facts. I can't help it if Neilsen Wire, Harvard Business School, Marketing Sherpa, the New York State Bar Journal, Business Week, Quantcast, Compete.com, Social Media Insider and Mashable.com publish statistics that make Twitter look bad.
As always -- you be the judge. The chart below shows that Twitter peaked last July. It's your time that you are investing or wasting. As for me, I'll stick to LinkedIn and in-person face-to-face networking for new business.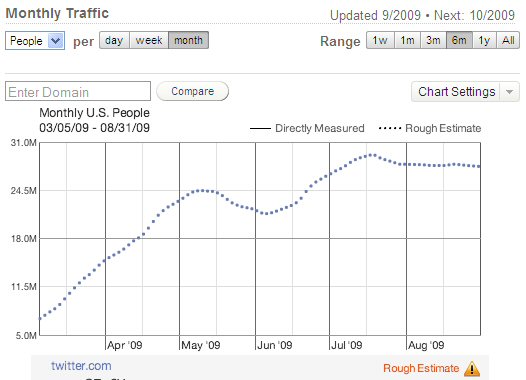 Trackbacks (0)
Links to blogs that reference this article
Trackback URL
http://blog.larrybodine.com/admin/trackback/157185
Larry Bodine Marketing, 691 Wingate Road, Glen Ellyn, IL 60137
Tel: 630.942.0977