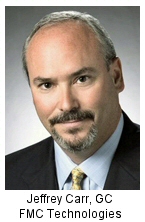 FMC Technologies made headlines when it posted an RFP (request for proposals) on Legal OnRamp, the online social network for in-house lawyers. Jeffrey Carr, Vice President, General Counsel and Secretary, put a two-page application online.
The last step was to state in a Tweet on Twitter (140 character limit) why FMC should hire the law firm. The move took law firms aback as they considered what to do.
Carr had put the RFP "1° Law Litigation Value Challenge" online last spring with a deadline of May 31, 2009. He was seeking tech-savvy firms that offered alternative fees, online billing, and performance review plus a bonus. 50 Law firms downloaded the two-page form and as of last fall, 32 firms were being considered, including Drinker Biddle, Valorem law firm (7 lawyers), Morgan, Lewis and Pepper Hamilton.
He is an Association of Corporate Counsel Board member and the driving force behind the ACC Value Challenge Steering Committee."The existing model for legal service delivery is unsustainable, and we've reached a critical milestone where the customers appear willing to drive change," Carr explains. "The current business model used by most law firms is antiquated, inefficient and ineffective and it fails to deliver value to the client by avoiding -- indeed by punishing -- those that leverage prior work product, streamline processes and focus on profitability by cost reduction as opposed to top line revenue growth."
So which firms tweeted and made the final cut? They are:
Beirne Maynard
Fulkerson
Littler
Seyfarth
Summit
Sutherland
Valorem
Womble
It pays to be tech-savvy and to be concise!