Larry Bodine Law Marketing Blog
Ari Kaplan at ABA Techshow: Market Your Imperfection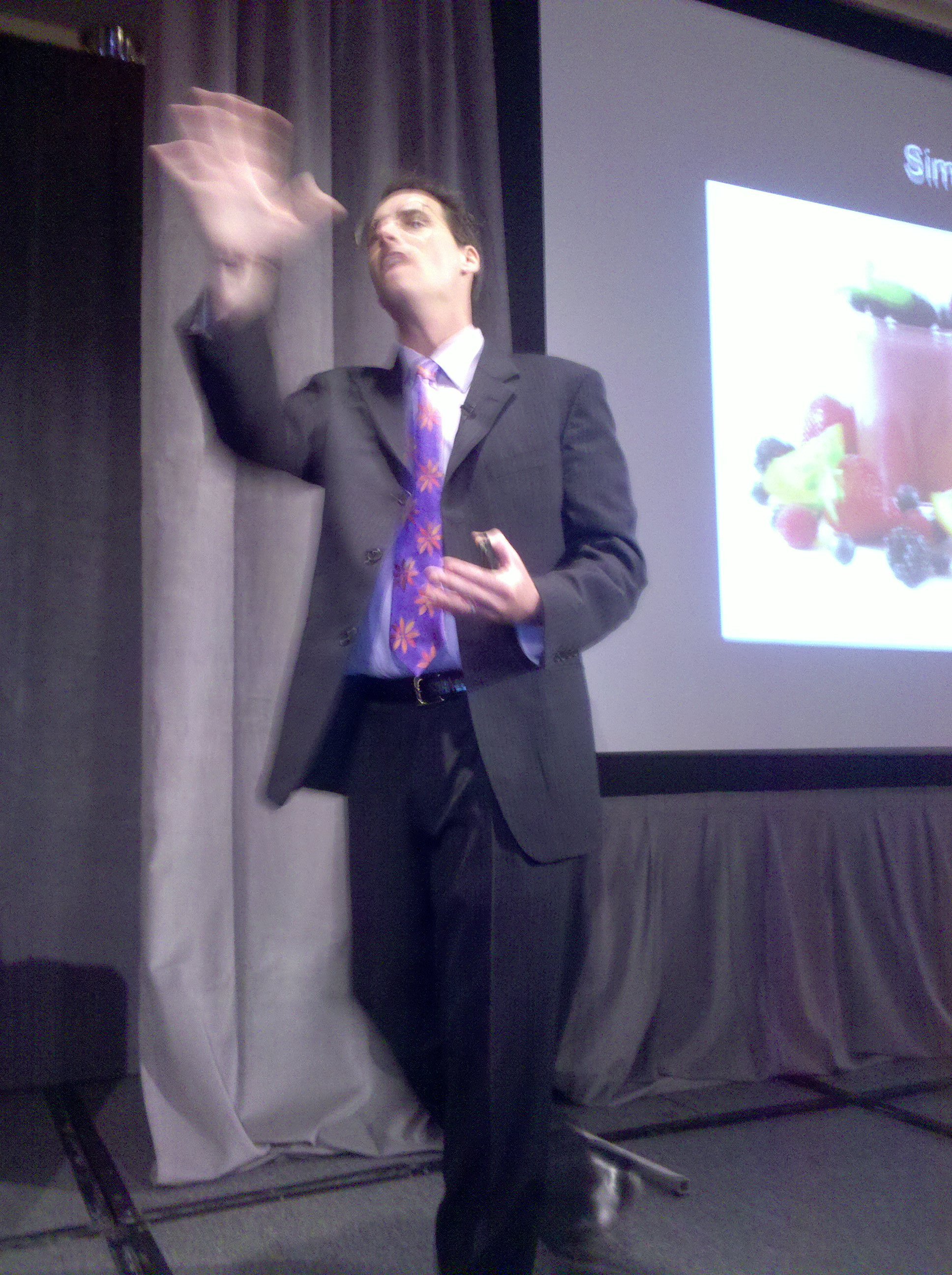 Razor thin, bespectacled and animated, Ari Kaplan said the way to market yourself is to let your imperfections show.
"You need to stop worrying about creating the perfect email or the perfect marketing campaign. The new technology allows you to be authentic. We live in a 140-character world. You don't have to be perfect. People are more interested in getting your information than getting it perfectly."
As an example he gave the famous Liberty Bell, which is not known for its intended purpose of ringing, but is beloved for its repaired crack.
He was the keynote speaker at ABA Techshow, talking on the topic "The Convergence of Technology and Marketing." He is a well-known speaker, interviewer, marketer, technologist, ghostwriter and author of the 2008 book The Opportunity Maker. He was an associate at McDermott Will for nine years in New York.
A whiz kid with technology, he gave examples of himself being imperfect -- such as unknowingly broadcasting a TV call-in show without sound, and presenting a webinar for 20 minutes, also without sound. "I fail a lot. It's imperfect but it's very authentic," he said.
"Once you let people in, they'll see that you are a flawed kind of cool character – they relate to the flaws. It makes them laugh and appreciate the other person. People don't want to connect based on your perfection."
He gave several marketing tips:
Getting quoted in the media. A master promoter, Kaplan used online social networking to get publicity in advance of his talk. He went on LinkedIn and searched for "producer" and "WGN," sent out contact emails, and was invited to appear on TV. He similarly contacted the Chicago Tribune was the lead item in Ameet Sachdev's widely read column on the law.
His other tips included:
Syndicate.
Publish a newsletter, write articles and write Blog posts. Find a way to share your knowledge.
Visit EzineHub.com – it's a directory of newsletters that need content.
Upload your content to JDSupra.com, a grand example of how to share content with any audience that is interested in in it.
Video. Many lawyers are afraid of it. "I don't want to see myself on camera, that's what you're thinking about yourself. But people love video; it's much more palatable than print, and search engines look it," he said. "How do you fight the fear? Don't be in the video. I know a woman tax lawyer who shows a series of screen shots and narrates it in the background."
Google Alerts. Start them on people you meet. When they get a promotion, win an award, give a speech -- you can call to congratulate them.
Innovate. "The important element of innovation is not in the success of it; it's the attempt to do it. "Success will come. It's all about trying to make the innovation work."
Trackbacks (0)
Links to blogs that reference this article
Trackback URL
http://blog.larrybodine.com/admin/trackback/193278
Larry Bodine Marketing, 691 Wingate Road, Glen Ellyn, IL 60137
Tel: 630.942.0977