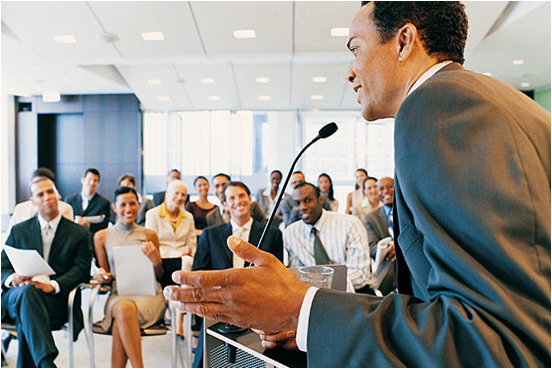 Do you have at least mild glossophobia—the fear of public speaking? Lawyers may be less daunted by it than most people because of the nature of our profession. Yet the prospect of speaking to a group of people can raise the heart rate. A 1993 survey identified public speaking as the number-one subject of nightmares.
Imagine you want to attract more clients in a new practice area. Effective presentations that illustrate your experience and services can reach people who will refer business to you.
Here's how to become a good public speaker:
Listen to great speakers. Study not so much what the speaker is saying, but how he or she was saying it. Notice all the things the speaker is doing to capture the attention of the audience.
Hire a speech coach. You'll learn that great public speaking is a skill to be learned, and not necessarily an in-born talent. A coach can show you simple techniques, videotape you so you can see yourself and give you support.
Use PowerPoint to illustrate -- not be -- your presentation. After you have made a big point, hit the letter B. That will blank out the screen. Now the audience has nothing to look at except you. Now is the time to ask questions of your audience and engage them. When you are ready to move on again with the slides, hitting the space bar will bring the screen back.
Handouts and downloads. Never give out a copy of your slides in advance if you can help it. Without handouts, people will be less distracted. They will look at you and will see your slides in context, under your control.
Reach larger audiences with a web seminar. The technology is simple -- if you can make a slide show, dial a phone and click on a computer screen, you have all the skills you'll need. You'll present by speaking into a phone and advancing slides on a website. You can even do a webinar in your pajamas.
Follow up after the speech. You absolutely must follow up with your audience. Ask the event organizers whether you can get a list of the attendees' names and contact information. If you are not given that information, have a bowl near the entrance to the room. Invite your audience to drop their business cards into the bowl if they would like to receive an article or some other information on your topic.
For more details, see the excellent article by Wells H. Anderson, JD, a veteran legal technology consultant, who runs Active Practice LLC