Larry Bodine Law Marketing Blog
Government Launches Spy Agency to Secretly Track Activities of Americans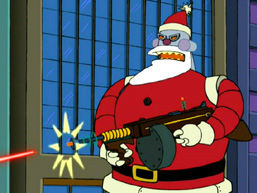 I was sitting in my study, reading Wikileaks to catch up on what our government was up to. To my horror I discovered a clear and present danger to our privacy as citizens, an incredible government program to spy on Americans, harvest and collect the information, and deliver consequences -- some really dreadful consequences. It involved having a terrorist spy run the government program.
The description was redacted, but here's what I made out:
The spymaster can see you when you're sleeping.
He knows when you're awake and monitors your activities.
He knows if you've been "bad" or "good" according to some undefined standards.
This goes waaaay beyond stoplight cameras that issue traffic tickets, or food stores monitoring what you eat when you swipe your store card, or a GPS program that can tell exactly where you are.
Code named the S@ЙT@ program, it involved doling out rewards and punishments without any right to due process or equal protection. The head of the agency is obese, so he's definitely an American. He wore red garb so he was probably a Communist.
I called up my local Tea Party leader, who had already informed me about FEMA concentration camps, impending 'door-to-door' gun confiscations and that 9/11 was a government plot. And he knew all about the S@ЙT@ program. He whispered fearfully, "So be good for goodness sake!
Trackbacks (0)
Links to blogs that reference this article
Trackback URL
http://blog.larrybodine.com/admin/trackback/233969
Larry Bodine Marketing, 691 Wingate Road, Glen Ellyn, IL 60137
Tel: 630.942.0977