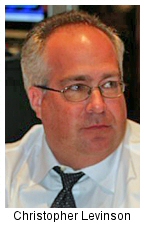 Actually, Christopher Levinson has 52,477 followers on Twitter, and the number grows every day. He's the administrator of Masry Vititoe, a personal injury law firm in Westlake Village, CA, near Los Angeles.
He also has 1,100 contacts on LinkedIn, which is where I met him in the New World Lawyer group.
How did he get so many followers? "I just like to do good and Tweet about things that will help people." He also automatically follows back every person who follows him.
He started his Twitter account about two years ago and modestly professes, "I still haven't gotten my arms around social media." He tweets when he has time, which means early in the morning before work and late at night before he goes to sleep. He's sent more than 1,300 tweets.
Interestingly, the account is his personally, not the law firm's, even though his tweets focus on legal issues involving potential clients of the firm. Masry Vititoe, by the way, is the law firm portrayed in the Academy Award winning film Erin Brockovich. He says he doesn't tweet as a business development tactic for the firm, but the partners certainly don't object.
Chris is a guy who loves giving back. He's the Past President and a current board member at Malibu Lost Hills Sheriff's Foundation, which helps people in the jurisdiction.
He gets the content for his tweets from several litigation and product recall listservs he belongs to. His recent tweets include:
Ford recalls 144,000 F-150 trucks due to airbag problems - http://lnkd.in/m7hUKx
Toyota's new round of recalls underlines difficulty automaker faces trying to put sudden-acceleration problems behind- http://lat.ms/eB8bC2
B.O.B. Trailers Inc recalls about 337,000 single and double strollers in the United States and about 20,000 in Canada -http://bo.st/eMmkyX
Hexavalent Chromium / Chromium VI Update: Bill seeks limited carcinogens in Calif. tap water - http://lnkd.in/xPDPWy
Supreme Court shields vaccine makers from lawsuits -http://lat.ms/dZVbmz -6-2 ruling upholds a federal law that offers compensation to victims
New York: City in a Deal for Removing School PCBs -aging light fixtures public schools health concerns about leaks -http://on.wsj.com/g0iFmj
Check out his Twitter growth chart: