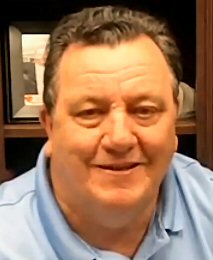 One of my favorite channels on YouTube is PILMMA, where Raleigh, NC, lawyer Ken Hardison always offers practical, down-to-earth personal marketing advice. I've presented many of his videos on the LawMarketing Channel, and you can see one now at www.lawmarketing.com.
I was totally impressed when I saw that he has has started a charity weight-loss challenge. He actually videotaped is weigh-in and he is a big fella, clocking in at see here pounds. His goal is to lose 80 pounds by October 15.
Ken's videos are great. There's no razzle-dazzle, just Big Ken talking to you from his desk, offering marketing tips and techniques he's learned in 29 years of trial practice. Ken is President of the Personal Injury Lawyers Marketing and Management Association (PILMMA), and he knows what he's talking about. The videos are professionally shot, but are not junked up with music or flashy graphics. I really like the plain speaking approach.
For every pound he loses he'll make a donation to Save the Children, and you can sponsor Ken by making a pledge for every pound he loses. Ken is so genuine, he even asks video viewers for advice on how to lose weight. Excess weight has always been a struggle for me too, so I offered him my ideas in a comment on the video.
He'll do a final weigh-in on October 15 at the PILMMA Fall 2011 Summit in La's Vegas. I will be there and I hope to see you too.
Marketing Takeaways
In law firm marketing, be yourself. Be authentic. Be sincere.
Market your imperfection, as Ari Kaplan advises. People identify with your vulnerabilities. It shows you're human.
People will root for your efforts devoted to self-improvement.
Nothing attracts positive attention better than a fun stunt for a good cause.
Do something good for a change.