A survey of senior marketers and business attendees at the Legal Marketing Association (LMA) Annual Conference confirmed what many of us know:
64% cited websites as the top priority for investment in 2011
Social media ranked as the second key area of investment (59%)
E-mail marketing ranked 3rd (47%).
Where do you plan to invest in applying technology to further impact the success of marketing and business development efforts in 2011?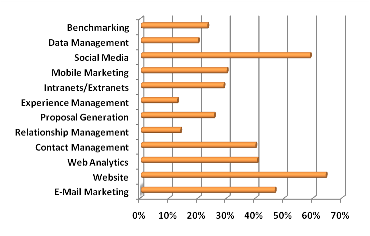 Hubbard One conducted the poll. One of the more interesting findings coming out of the survey is technology-based collaborative tools – such as SharePoint – ranked very high as an emerging trend for the future, cited by 20% of respondents. Respondents noted they worked most regularly with IT (66%) and finance departments (58%) to maximize effectiveness and ROI on projects and initiatives.
"The growing importance placed on technology-based collaboration tools like SharePoint highlights an interesting new trend within marketing and BD teams," says Timothy Corcoran, VP at Hubbard One. "Whereas previously SharePoint has not been high on marketers' wish-lists, as firms continue to grow and expand their international presence, systems that allow them to effectively share information across borders and departments will become increasingly valuable."