Larry Bodine Law Marketing Blog
ALERT: Your Law Firm Could be a Victim of a Lead-Generation Scam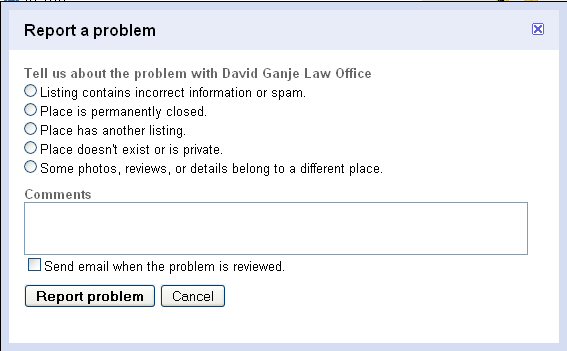 Lead generation scams have spread across the Internet and can affect your law firm. You need to know this because one of the scammers may be using your law firm name and address as their location in Google Local or on Yelp.com.
I just ran a search for a lawyer in New York and unexpectedly discovered a fake Google Place page. Clicking the link referred me to a law firm in another state.
Back on the Google search results page, I noticed there was a link I had never seen before on Google, asking: "Is this accurate?" I clicked it, completed the online "Report a Problem" form and reported that the link misdirected me.

Here's how the scam works: A "lead-gen" company, as they're known in the biz, collects leads from consumers needing services. They do this be creating hundreds of phony Google Local places and Yelp businesses listings online. A potential customer will conduct a search such as "lawyer in Seattle" and will view a selection of law firms with supposedly local name, address and phone number, all pinpointed on a local map.
However, when the customer clicks the displayed hyperlink or calls the number, they'll reach a phone bank -- sometimes in other countries -- which will refer the caller to a business that has paid to receive leads from that city, state or zip code. The scam is so widespread, the New York Times ran an article about it on July 10.
Many of the lead-gen scams will use the name and address of an actual business or law firm to steal leads that should rightly be coming to them. To see a video of how the scam has spread like a plague in the locksmith industry, watch Consumer Alert! on YouTube.
It was amazing to see the brazen audacity of the phony Google Places listing for the New York law firm I was seeking. The fake listing showed a picture of the real lawyer, his address, phone number and location on a Google map. But the link to the firm directed me elsewhere.
What you should do if it happens to you
Google your firm name, address and telephone number immediately and determine if all the search results are legitimate.
If you find a fake listing, click the "Is this accurate?" link provided by Google.
Find the "Edit This Place" link in the fake listing, and next click the link "You can report a problem."
Contact Gabriel Stricker, the Director of Global Communications & Public Affairs at Google Inc, at 650.253.0139 or gstricker@google.com.
Trackbacks (0)
Links to blogs that reference this article
Trackback URL
http://blog.larrybodine.com/admin/trackback/253506
Larry Bodine Marketing, 691 Wingate Road, Glen Ellyn, IL 60137
Tel: 630.942.0977