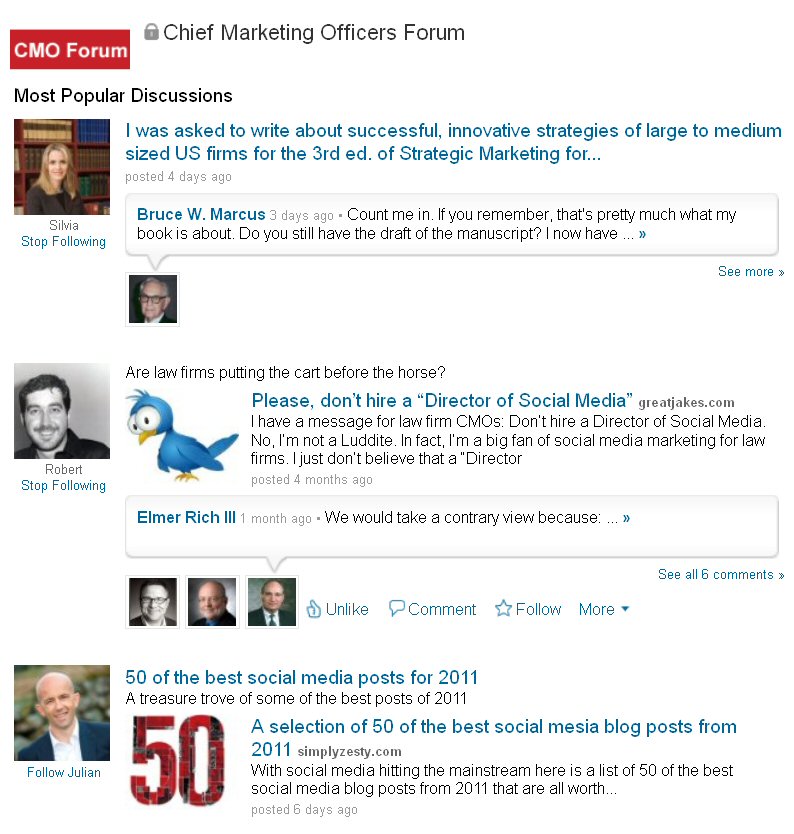 It all began with a successful ALM conference in New York in September 2008. Dozens of CMOs attended for programs about client feedback, client teams, competitive intelligence and a keynote by a managing partner. The attendees of event had developed such a rapport that they wanted to stay in touch after it ended. As one of the conference co-chairs, I set up a modest little group on LinkedIn called the Chief Marketing Officers Forum.
Since then it's crossed the 500-member mark. Without any promotion, it grew organically to 527 members before I even had a chance to write about it. The group includes senior marketing professionals from across the US, plus members from Australia, Italy, Spain, the UK, Canada and more.
Our group is composed of marketing leaders to discuss strategy, methods and technology to generate new business and revenue for law firms.
Reflecting current events, our recent discussions have ranged from Google+, the ABA Commission on Ethics 20/20, the future of social media marketing for professionals and the best practices in building your personal network. Members learned about the Summit for US-India Trade & Economics, a new rating site of vendors at www.MyLegal.com, and webinars like "What GCs Look for on Your Website."
The gathering that started the online group is now called The American Lawyer's Law Firm Marketing & Business Development Leadership Forum and our online meetup continues at http://linkd.in/jhc1oP.

Will you be member #528?