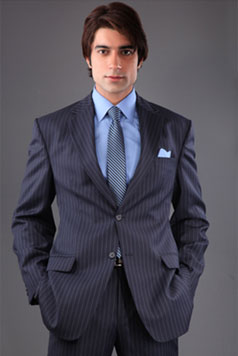 Modern Single-Breasted Suit
When I make a presentation, I wear my Armani suit.
Here are some great style tips from
Janine Giorgenti
,
a fourth-generation Italian-American fashion designer and image consultant in New York City.
Before you utter a single word, your clothing has already spoken for you. As an attorney, you need to prepare your wardrobe with the same attention to detail with which you prepare your case.
Your clients and the jury have a preconceived notion of how a lawyer should appear. It is important to fulfill their expectations. Your wardrobe should cloak you in an aura of confidence, with the assertiveness they anticipate.
If you are in a conservative arena and want to be taken seriously, dress conservatively. This applies to corporate law, taxation, finance, business, insurance, government, and labor relations.
The darker the color, the more authority the attire conveys. A gray or navy pinstripe suit communicates the highest authority. Wear this suit for court presentations, board meetings and for serious business with clients. The next best choice is a solid navy or charcoal suit.
There are times when the "power look" is overkill or too intimidating, and where a softer persona will further your agenda. This is true during arbitration, where being perceived as neutral can be an asset, or during a meeting with the adult children of the elderly, discussing sensitive issues. Wearing suits or sport coats in medium grays, browns, tans, and olives, comes across as non-threatening, friendly, and forthcoming.
You do not need to dress trendy, but you must stay current. Wear today's suit styles and be perceived as updated and current with the times. Today's look is a slimmer cut single-breasted 2-button coat with flat front trousers. If that does not flatter your physique, then a medium cut single-breasted suit with pleated pants is okay. For attorneys representing sports figures, and those in entertainment law, the music industry, or other creative fields, wearing trendy clothes can be an asset, but don't overdo it, as you are still a lawyer. Try the new A shaped double-breasted suits, with the slimmer peak lapels or the narrow lapel single-breasted suits.
Collars. For dress formal, there is no excuse for not buttoning the collar because of tightness or wearing ill-fitting shirts; ditch them! The collar style you choose is important. Your face shape may be oblong, square, round, diamond, etc., and since many men will experience hair loss at some point, the collar is the most important element in giving balance to your face. Depending on your face shape, the most appropriate collars for a professional appearance are standard point that will take you from day into evening, or medium spread. Spread collars look elegant for formal occasions.
Ties. Out of everything you wear, you will be remembered most for your tie. Do not buy cheap ties, and ditch all those that reek of "birthday gift" unless they are in extremely good taste. Stick to high quality wool-lined silks that hold their shape and don't twist. Always make sure the tie is the proper width in proportion to your chest and that the length extends a half inch below your belt line. Geometrics, paisleys, and rep ties are the most popular. For young attorneys or those in specialties that allow for a trendier look, the skinnier ties, worn with the latest new shorter collar point shirts, are a sure bet in dressing for success.

Blue Rep Tie

Red Geometric Tie

Gray Paisley Tie
Giorgenti's online store best custom shirts has been rated #1 by The Wall Street Journal. For more see what to wear, custom dress shirts, suits, business casual, image consultation, and ties.