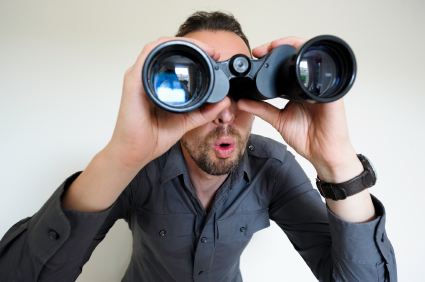 It's always useful to know what your competitors are up to. Of course you shouldn't let a competitor's marketing activities govern which initiatives you pursue, and you certainly wouldn't do anything unethical. But if you were Microsoft, you'd keep track of what Apple was doing.
To this end, I ran across a collection of practical tips about competitive intelligence from Carol Tice on the Entrepreneur web site. From a dozen tips, I included the best below.
1. Tap your vendors. Product suppliers and service providers talk regularly with all their clients. If you're on good terms with your vendors, chat them up and see what you can get them to spill about your competitors. Don't be pushy, though. Keep the conversation casual.
2. Google your competitor's website.
You can reveal hidden pages by doing Google searches such as: "filetype: doc site: companyname" says August Jackson, a senior competitive intelligence analyst for Ernst & Young in McLean, VA. Change the file type to .pdf, .xls, or .ppt to turn up data or presentations. "It's surprising how many companies put this information up and think, 'If I don't link to it, no one will find it,'" Jackson says. You also can view the site's source code to see the meta-tags or key words being used to optimize its position in searches.
4. Troll Twitter and Facebook chatter.
If members of your industry hang out on Facebook, monitor their conversations. Music-rights agent Jennifer Yeko, president of True Talent Management in Beverly Hills, Calif., says she gets the scoop on the clients her competitors sign and the royalty rates they offer from posts made by her Facebook friends.
Many events have a Twitter hashtag that people use to chat and post speakers' comments live. If a competitor is speaking, tune in. Jackson has had success asking follow-up questions by responding and using the same hashtag.
3
. Check Slideshare.
Law firms frequently use
this popular portal
to share slideshow presentations but forget to take them down. Presentations may contain financial data, forecasts and information about new projects.
Visit 12 Ways to (Legally) Spy on Your Competitors for all the tips.