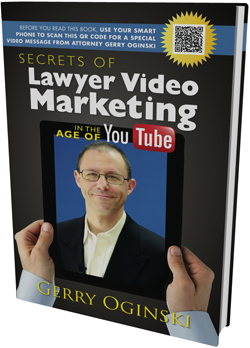 This is an excerpt of Chapter 7 of Secrets of Lawyer Video Marketing by expert Gerry Oginski, a trial lawyer and marketing expert in New York.
---
There is an art and science to creating and promoting your videos. Pressing the red record button and then directly uploading to YouTube is never your goal. There is much more to be done in order to maximize the chances that your video will be found and watched.
Your goal in creating video is to teach, educate, and inform. You should always be trying to create video that converts a viewer into a caller. If you try to use traditional forms of TV advertising, yellow pages advertising, and the like, and simply apply that to video marketing, you will fail miserably. Guaranteed.
Let me explain why. In 2006 when YouTube first came on the scene, there were video companies and lawyers who took their 30-second TV ads and put them online, believing that viewers would want to watch their TV commercials online. But they soon learned that viewers had no interest in watching a TV commercial online. Why not?
Why video works
The answer is simple. The people who were going online wanted information. The reason why video works so well is that you have the ability to teach and explain. You have the ability to talk for a few minutes and explain why. TV commercials don't do that. A narrative PowerPoint presentation doesn't do that.
Also, your goal when creating video is to connect and create a bond with your online viewer. Your viewer gets to see you. Your viewer gets to hear you. Your viewer begins to trust you. You cannot do that with a PowerPoint presentation.
Here are some amazing statistics: 48 hours of video are uploaded every minute to YouTube. YouTube is the second largest search engine in the world, directly behind Google.
If you think video is a fad, you'd are 100% wrong. Video has revolutionized the way lawyers and businesses market themselves. Never before have people been able to see, virtually touch, and hear what an attorney has to say before meeting them in person.
YouTube has given us a way to get our videos found, clicked on, and watched. Importantly, it allows us the ability to convert a viewer into a caller.
This is not your father's method of advertising.
There are still some "old-school" lawyers who believe that it is beneath them to advertise. It is not "respectable." Those lawyers are practicing in the age of the dinosaurs. Although referral-based marketing is still the best and most profitable form of marketing, there are many lawyers and law firms who seek to boost their marketing beyond whatever referrals they get.
While it is true that you should never put all of your eggs in one basket, it is also true that if you fail to take advantage of video you will be left behind. It is becoming quite obvious that lawyers who fail to create compelling educational video are already at a significant disadvantage when trying to attract new potential clients to their law firms.
How someone finds your video online
Remember, the psychology behind someone searching for an attorney online is critical to understand in order for you to create effective video that targets their legal problem. Here is how someone looks for a lawyer online.
Someone with a legal problem is looking for a lawyer to help them.
They don't know a lawyer.
They don't know a friend or family member who knows a lawyer they could recommend.
One of the simplest and easiest ways to begin to look for an attorney or, more importantly, to look for information about their legal problem or medical problem is to go online and type their problem into Google.
In the past, a consumer or potential client might go to the yellow pages and flip open the lawyers section and begin to call each lawyer. No longer.