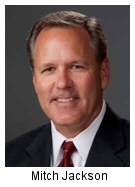 I've seen the future of legal marketing and it's Spreecast -- a new online video conference service that enables lawyers to broadcast a video instantly, and to invite clients and prospects to attend and participate.
Hats off to social media maven Mitch Jackson, a successful trial lawyer at Jackson and Wilson in Laguna Hills, CA, for introducing me to Spreecast. Mitch is all over social media and is particularly skilled at video.
Spreecast is free. All you need is a laptop with a webcam. I recommend you add it to your marketing toolbox today.
Mitch interviewed me online last night (see below) about online marketing, and it felt like we were in the same room. Many people attended the live web presentation and could watch -- and participate.
As the moderator, Mitch clicked in the admin screen and an attendee's webcam image appeared on screen. I talked live with David M. Ward of Attorneymarketing.com - it was so cool to see him and hear him live. Lawyers can use this technique by having a marketing professional interview them, or the lawyer can interview a client or colleague.
It took me only 30 minutes to figure it out. Caveat: it's glitchy and buggy -- the video quality can be poor and the sound cuts in and out. I blame my slow Internet connection. But Mitch has Spreecast down pat -- check out how clear his image and audio are. I can't wait to do this again.