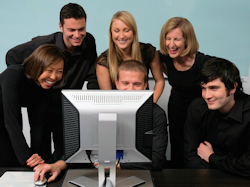 A smart technique for lawyer-bloggers is to write about topics that consumer clients are already interested in -- and I've got a Top Ten list of best-read topics for you. Many lawyers make the mistake of writing about something first and trying to develop reader interest second. The easier and more effective approach is to blog about what your readers are already talking about.
Tracking reader interest is a a rigorous and regular exercise for us as the editors and writers of the Lawyers.com blog. By closely reading our web analytics, we've managed to multiply our unique visitors by factor of 8 since January 2012. Lawyers who write blogs can do the same. Simply read the traffic reports from your web logs and conduct searches of social media sites to see which of your blog posts attracted the most readers. You too can multiply your readership by simply giving your readers more of what they want.
Smart blogging is an excellent business development technique. According to the American Bar Association's 2011 Legal Technology Survey Report, 60 percent of small law firms reported landing new clients as a result of their blog.
Top Ten Legal Topics that Consumers Read About
If you start writing about these topics in your blog, and relate them to your law practice, traffic to your blog will increase quickly -- guaranteed. Click here to read the Top 10 Best-Read Topics to Write about in Your Blog.