Larry Bodine Law Marketing Blog
BTI Forecasts Litigation to Surge in 2014
2014 is shaping up to be a good year for litigators, according to The BTI Consulting Group of Wellesley, MA. Approximately 61% of clients expect to see a jump in the number of litigation matters they will be handling next year, according to the firm's latest research report.
"Each new matter represents an opportunity for new business," according to BTI's new Litigation Outlook 2014. "Corporate clients will be busier and focused on litigation."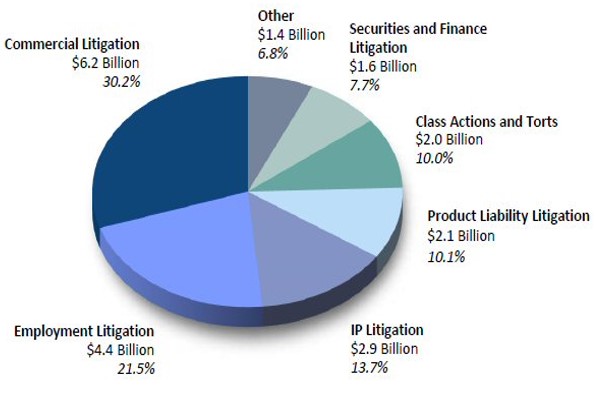 Filled with charts, tables and facts, the forecast is based on 300 new one-on-one telephone interviews with decision-makers including the Head of Litigation, Vice President of Litigation, General Counsel or direct report to the GC. Interviewees worked at corporations with average revenue of $14.3 billion.
Litigation is the largest part of most companies' legal spending, according to BTI President Michael B. Rynowecer -- accounting for about 40% of a typical corporate legal budget.
But corporate clients will expect law firms to attack litigation costs with early case assessment, alternative fees (now used by 70% of corporate counsel), budgets, alternative staffing and a focus on settlements. "The law firms who can change their approach to help drive these costs down and market to the new surge of business will fare well," he said.
A $21 Billion Market
The report finds that litigation is a $21 billion market, composed primarily of commercial litigation ($6.2 billion) and employment litigation ($4.4 billion), as well as IP litigation, product liability, class actions and torts, securities and finance, and other litigation. The average number of new litigation matters filed in 2014 is forecast to increase to 116 per company.
The growth will take place in regulatory, labor, class actions, securities and IP litigation – each offering a different mix of high growth and premium rates. The report sorts types of litigation growth by industry – for example, growth in exployment litigation is projected for the consumer goods and retail trade industries.
This year's Litigation Outlook also analyzes clients that have the most litigation work to assign, and spotlights the powerhouse law firms by practice area. Dozens of law firms are identified, but there are only four among the "Most Feared Litigation Firms." Jones Day, Kirkland & Ellis, Quinn Emanuel and Skadden, Arps will be happy to see they are named.
The Litigation Outlook may be purchased at www.btilitigationoutlook.com. BTI has one of the world's largest knowledge bases of professional services research based on more than 13,000 interviews conducted over the past 24 years.
Trackbacks (0)
Links to blogs that reference this article
Trackback URL
http://blog.larrybodine.com/admin/trackback/305481
Larry Bodine Marketing, 691 Wingate Road, Glen Ellyn, IL 60137
Tel: 630.942.0977