Nancy Fox
Nancy Fox, one of the most charming and graceful people I've ever met, outlined her top icebreaking strategies for networking.
"Breaking the ice is difficult because people's attention span is so much smaller nowadays, and you have only a few seconds to make a good first impression," she said one a webinar sponsored by LawMarketing. She has coached hundreds of attorneys in marketing, business development and networking.
"Lawyers want to convert our new connections and book follow-up meetings with new people. We we want to use our networking efforts to launch new referral relationships," she said. "But for many of us it's uncomfortable to enter a room with people we don't know." For this she offers 10 strategies:
Be prepared. Arrive ready with icebreaker questions, like #11 from her eBook, "What business books have you read recently that you've found valuable?" or #26, "Tell me how you got into your business?"
Be proactive. "Make the first move and thus take the pressure off the other person. They will be grateful and pleased that you've broken the ice."
Make consistent eye contact. "This is essential because people really believe when you make eye contact that you are interested in them and are committed to the conversation. If your eyes are wandering, they'll feel that you don't really care."
Break the ice with grace and politeness. "Avoid joining a conversation where only two people are talking -- they may behaving a private conversation. Instead look for people who are standing alone or in groups of three or more."
Listen. "Lawyers are trained to be good speakers, but to break the ice, a person must truly listen actively. Spend more time closing your mouth and opening the door to breaking the ice, by listening actively. People deeply desire to be heard."
Smile. "Most of us are watching others for non-verbal cues, but we should focus on the nonverbal cues we are giving. The more you smile at people, the more you will open the door to conversation. A smile shows warmth."
Introduce others. "It's a gift to the other person and it makes you look like a real connector, and the ice thaws quickly."
Say something positive about your new connection. "Doing this at the outset of the conversation will break down a lot of barriers."
Break the ice with someone you haven't spoken with for a very long time. "Simply say, 'it's been such a long time and I've been thinking of reconnecting with you. Tell me what's new with you?' People will resonate with this approach, because they too will have people they haven't spoken to in a long time."
Download her free eBook, "55 Great Icebreaker Questions" and you'll never be anxious again in a room full of people you haven't met.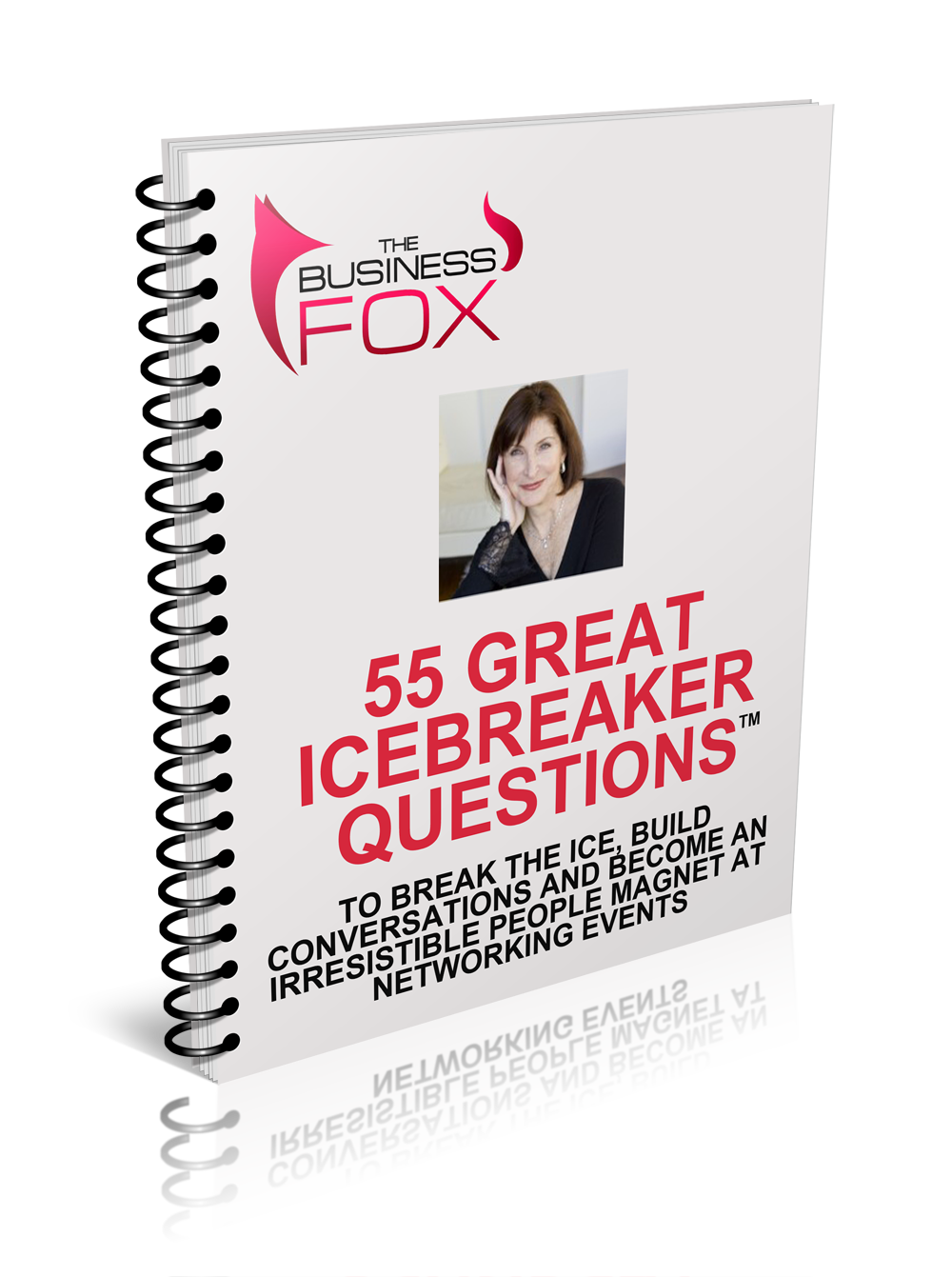 Join a free webinar with Nancy Fox on Tuesday (tomorrow) January 28 by registering at http://lawmarketing.com/networking-for-lawyers-webinar. Attendees will get a copy of her fabulous "55 Great Icebreaker Questions" as well as her expert networking advice.
I've known Nancy for years and recommend that lawyers register and attend this program. When you sign up (no cost), you will receive practical yet powerful tools and strategies for:
Networking Events:
Being a masterful icebreaker with preferred new connections at networking events and social venues.
Gracefully and politely join a conversation at networking events without feeling like a bull in a china shop.
Develop engaging conversation while learning important information for future relationship and opportunity building
Break the ice with new contacts and gain lots of follow up meetings with select new colleagues
Gracefully wrap up one conversation and move on to breaking the ice with a new person without losing your cool
For Business Meetings:
Covers how to break the ice at follow up meetings, pitch meetings, closing meetings, and leading team meetings:
How to re-engage your new connection after the networking
How to kick off a follow up meeting that sets a highly positive tone
How to lead off a pitch meeting with charisma and effectiveness
How to break the ice at the critical "close meeting" for that important deal; how to deal with objections and proposal delays
How to break the ice and engage attendees at business meetings you lead
How to break the ice when you haven't connected with someone in a long time
I'll be on the call myself, taking notes and preparing a report. So join me by registering today.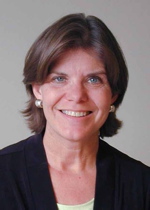 Janet Ellen Raasch
Following is a guest blog post by Janet Ellen Raasch, a writer, ghostwriter, copyeditor and blogger at Constant Content Blog who helps lawyers, law firms, legal consultants and legal organizations gain name recognition and new business. She can be reached at (303) 399-5041 or jeraasch@msn.com.
---
Your brand is what makes a client choose (or not choose) you as legal counsel rather than a competitor. Each law firm has a brand in the marketplace – whether by intention or by accident.
Your law firm can accept the brand you have and live with it -- but this can be risky in an increasingly competitive marketplace. Alternatively, you can put some thought into creating and managing a brand that works hard for you in the marketplace -- and thrive as a result. The choice is yours.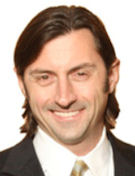 Gerry O'Brion
Having a limited budget doesn't mean that a smaller law firm cannot develop a good brand and take it to market – without breaking the bank. "There are many lessons that a law firm can learn from big businesses," said Gerry O'Brion. "Once learned, these lessons can be applied at little or no cost."
O'Brion is a professional speaker and founder of What Big Brands Know, a Denver-based consulting firm. He is creator of a program called The Business Blueprint: Simple steps to grow any business like a billion-dollar brand. His practical advice is based on what he learned in the big-company marketing departments of Proctor & Gamble, Coors Brewing, Quiznos and Red Robin.
Know your law firm
The first lesson law firms of any size can learn from big business is to get clear about what makes them different from their competition. The best brands differentiate themselves in a way that is important to their customers or clients.
"Recently, I went to the grocery store to pick up some barbecue sauce," said O'Brion. "When I got there, I was faced with 42 different kinds on the shelf. This quandary is what your clients face when picking a law firm. When making their choices, what do they consider? What sets you apart from the other firms 'on the shelf'?
"Everything has a brand, either by intention or by accident," said O'Brion. "What is the brand of Monday? Boo -- back to work. Of Friday? Yay -- TGIF. Your law firm has a brand in the marketplace. Make it purposeful. Is your brand the all-too-common 'all things to all people'? Or is it something that persuades clients that 'this is the firm for me'?"
Get your partners together to decide what it is that sets you apart. Where do your talents lie? What work do you most enjoy? Which clients do you serve the best? What work is most profitable? Where does most of your work come from? Where would you like it to come from? Focus. Build your brand and marketing message around this differentiation.
O'Brion used the example of an auto repair shop that branded itself as servicing all makes and models of cars, with little success. When the shop realized that much of its work came from servicing Audis and VWs, it changed its message to specialize in these makes of car and business tripled. Customers wanted to go to a shop that specialized in solving their particular problem.
"Successful branding boils down to just one thing," said Gerry O'Brion. "You must be different from your competition in a way that clients value. Big brands thrive by continually refining their understanding of what their customers value and by consistently delivering their messages in a way that stands out from the competition. Law firms can do the same."
You can be an attorney. You can be an attorney representing all businesses, everywhere. You can be an attorney representing hospitality businesses in Colorado. Or you can be an attorney representing restaurant clients in Denver. If you are a Denver restaurant owner, which lawyer will you choose? The sharper you focus, the better your brand and the more-profitable your business.
Know your target market
The next lesson law firms can learn from big business is to know who your clients are and what they want. "The time you spend understanding your clients sets you up for long-term success," said O'Brion.
The businesses that come to your house to remove vermin like bats or raccoons in the attic belong to an organization called the National Wildlife Control Operators Association. "The NWCOA wanted to provide useful marketing advice to its members," said O'Brion. "A study of customers yielded some surprising results," said O'Brion.
"Most pest-control companies are owned and operated by men," said O'Brion. "Interestingly, 80 percent of the time it is a woman who calls about vermin in the house. These women are concerned about much more than just getting rid of the animal. Among other things, they are concerned about ethical treatment, the cleanliness of their houses and preventing future problems. These customer insights helped wildlife control companies better serve their customers and close more sales."
All too often, law firms believe that their brand is what they think it is. Rather, they must understand that their brand is what clients think it is. "Your brand is the culmination of all the experiences a client has with your firm," said O'Brion. "Do some research. Ask your clients, potential clients and referral sources what they truly value in and expect of a legal services provider."
Often, these are qualities in addition to the basic expectation of legal expertise – things like quick return of phone calls, a pleasant receptionist or reasonable rates. Work these qualities into your message.
"Every interaction between your firm and a client must reinforce your message," said O'Brion. "Everyone at the firm must be aligned. When answering the phone, for example, the receptionist can say, 'We see problems like this all the time' and 'I am going to pass you along to the very best lawyer who deals with your specific problem.'"
If you are the Denver restaurant attorney, for example, you can join and speak to restaurant groups, decorate your office with restaurant-related art, put restaurant-related materials in your waiting room, and hold events at the venues of clients and potential clients. You can mention this specialty prominently in your electronic and print materials, along with restaurant success stories. Such efforts will help put you top-of-the-list among your target market.
A Coors Light case study
At Coors Brewing, O'Brion was brand manager for Coors Light, a $2 billion brand. He illustrated many of his points on successful branding with a Coors Light case study. Research showed that the taste of all beers in the light-beer category was more or less the same. Coors Light was ranked fourth and needed to find a way to differentiate in order to promote its brand.
Additional research showed that consumers makes their light-beer buying decisions based on eight factors – good taste, value, relaxation, low carbs/calories, socialization, refreshment, coldness and funny ads. Miller Lite had branded itself on good taste and low carbs/calories; Bud Light on socialization and funny ads; and Corona on relaxation.
Coors Light therefore focused on refreshment and—especially -- coldness. They introduced the Frost Brew Liner Can. "This is no different or more effective than any other can liner," said O'Brion. "We simply made it blue and associated it with coldness."
Other new and heavily-advertised Coors Light products included the cold-activated bottle, the cold-activated can, the cooler box (simply a case with a plastic liner that turned it into a cooler) and a Super Cold Draft version of Coors Light. Sales improved significantly and Coors Light passed Miller Lite and Budweiser to become No. 2 in the category, second only to Bud Light.
By following tips that work for the big guys, a law firm with a strong brand will keep and grow current clients, as well as attract desirable new clients. It will be less vulnerable to competitors. Plus, the firm can charge higher rates. Customers (and clients) are always willing to pay a bit more for a product or service that addresses their specific challenges.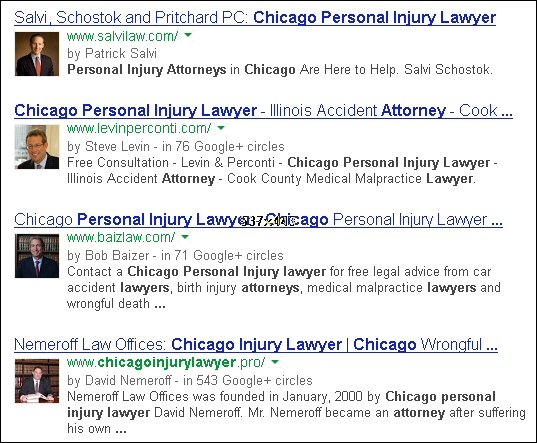 Have you noticed that when you search with the terms "divorce lawyer Los Angeles" or "Chicago personal injury lawyer" on Google, that several of the lawyers' pictures are displayed?
This is because they've implemented Google Authorship and studies show that it increases the person's click rate by 150 percent.
Not only that, but next to the lawyer's name is a 25-word summary and the number of times the lawyer is included in Google+ circles — a ranking of the lawyer's importance. Google Authorship has become an essential law firm SEO technique.
Google Authorship is a process that includes setting up a profile on Google+ to verify your identity as an author. It helps clients differentiate between trusted, reputable authors, and Web spammers.
There are two simple steps:
Create a Google+ profile. Be sure to upload a high-quality headshot and fill out some profile information such as hometown. If you have a Google+ profile you'll be more visible in search results than if you don't have one.
Go to plus.google.com/authorship, sign up with your email and click on the verification link Google sends you.
The benefits of Google Authorship also include establishing your authority on the Web and building trust online. Not only that, it keeps your identity — if you have a common name like "Jim Smith," you'll be able to put the name with a face — and it defeats plagiarism, ensuring that you get credit for your own writing.
It's great for SEO purposes," says Bill Wallis writing on Business 2 Business. "As you develop more original quality content and post it on your website and Google + page, the more "AuthorRank" you receive and the more credit you build with Google. When you couple this with your domain ranking, social shares, inbound links, comments and engagement on Google + and a few other factors, your articles have a much higher degree of certainty of being found on the first page."
Here's how I turn up in Google when you search on my name. Notice that Google adds how many other people have me in the Google+ circles.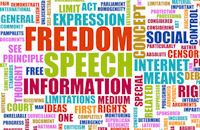 In a major free-speech ruling, the Ninth Circuit decreed that bloggers have the same First Amendment rights as the institutional, commercial press. The ruling demolishes the argument that in the eyes of the law, bloggers are not journalists.
The case involved a scurrilous blogger, Crystal Cox of Oregon writing on her blog http://obsidianfinancesucks.blogspot.com. She was held liable in 2011 for defamation for her attacks on a bankruptcy trustee -- see Lying Blogger Must Pay $2.5 Mil for Defamation.
The posts accuse trustee Kevin Padrick of engaging in "illegal activity, "including "corruption," "fraud," "deceit on the government," "money laundering," "defamation," "harassment," "tax crimes," and "fraud against the government." Cox also claimed that Obsidian paid off "media" and "politicians" and may have hired a hit man to kill her.

But the Ninth Circuit said, "Cox's consistent use of extreme language negates the impression that the blog posts assert objective facts." Because the posts were so hyperbolic, the court said they were unbelievable as facts -- and that she was not liable for writing them.

However she was held liable for writing that the trustee committed tax fraud while administering the assets of a company in a Chapter 11 bankruptcy, and calling for the IRS and the Oregon Department of Revenue to investigate the matter.

The Ninth Circuit said this charge is a matter of public concern, and that the trustee had to prove negligence to win a defamation suit against her. This is the standard applied to institutional corporate TV, newspaper and radio news operations. "This court has held that even consumer complaints of non-criminal conduct by a business can constitute matters of public concern," the court said.
The Ninth circuit added that the blogger could not be held liable for "presumed damages" without a showing of "actual malice" -- that she knew the post was false or acted with reckless disregard of its truth or falsity.
"The protections of the First Amendment do not turn on whether the defendant was a trained journalist, formally affiliated with traditional news entities, engaged in conflict-of-interest disclosure, went beyond just assembling others' writings, or tried to get both sides of a story. As the Supreme Court has accurately warned, a First Amendment distinction between the institutional press and other speakers is unworkable: "With the advent of the Internet and the decline of print and broadcast media . . . the line between the media and others who wish to comment on political and social issues becomes far more blurred." Citizens United , 558 U .S. at 352. In defamation cases, the public-figure status of a plaintiff and the public importance of the statement at issue—not the identity of the speaker—provide the First Amendment touchstones," the Ninth Circuit said.
The case is Obsidian Finance Group and Kevin Padrick v. Crystal Cox, case No. 12-35238.
More people are online than ever before and they are looking up lawyers using their mobile phones and tablets. If you haven't optimized your website for mobile devices, you are missing a lot of new business.
Smartphones have been outselling PCs since the end of 20101 and tablets (like iPads) will start outselling PCs in 2015.2 Mobile Internet users have grown over 30 percent in one year to about 1.5 billion users worldwide.3
When you realize that 21 percent of consumers use smartphones to search for an attorney (according to "Attorney Selection Research Study," The Research Intelligence Group, March 2012) you can see it's time to capture this new business.
Mobile websites are very different from PC websites — your mobile content should be action-oriented, and focus on issues that arise when a person's primary access to the Internet is a smartphone, not a PC. A great example is being stopped for a DUI, where a consumer needs an answer instantly.
Here are other scenarios where you'll want a mobile website:
A lawyer's name is given to a client as the best person to handle a matter. The client goes to your website on his iPhone to validate the lawyer's credentials. Your mobile website or profile on a legal directory should highlight your attorney profile, the firm's practice areas and your expertise (e.g., your blog).
A lawyer is at a conference and meets a prospective client. The lawyer mentions an alert the firm issued and is able to display it instantly. Your mobile website or profile on a legal directory should highlight your alerts, publications and news.
A client is going to a meeting at the firm and needs directions. The client can't recall the address. Your mobile website or profile on a legal directory should highlight your offices, maps and directions.
Think of how often you check your own cell phone when you are looking to buy something or hire someone — and you'll be convinced.
1 IDC, "Worldwide Quarterly Mobile Phone Tracker," February 2011.
2, graph IDC, "Worldwide Quarterly Tablet Tracker," May 2013.
3 Kleiner Perkins Caufield & Byers, "Internet Trends 2013," May 2013.
In 2014, the high-growth, high-rate law practices in which corporate clients will hire law firms are IP litigation, class actions, M&A, regulatory matters and tax issues (see chart below), according to the Market Outlook 2014 webinar, broadcast today by BTI Consulting.
Michael Rynowecer, President and Founder of BTI outlined these points from the BTI Market Outlook and Client Service Review 2014:
The US legal market exceeds $100 billion, of which $60 billion is spent on outside law firms.
Corporations will have more litigation work in 2014, but most of it will be handled in-house. There is a $6 billion increase in the amount of legal work now handled in-house when compared with two years ago.
Only 650 law firms handle legal work for the Fortune 1000.
When seeking a law firm, 80% of in-house counsel will confer with a peer and hire the firm that is recommended first.
However only 31.4% of clients are truly satisfied with their leading law firm. The typical AmLaw 100 law firm has 11% of it's clients at risk.
Law firms are spending more on marketing and business development, ranging from 2.8% to 2.4% of gross revenues (including the salaries of marketing staff).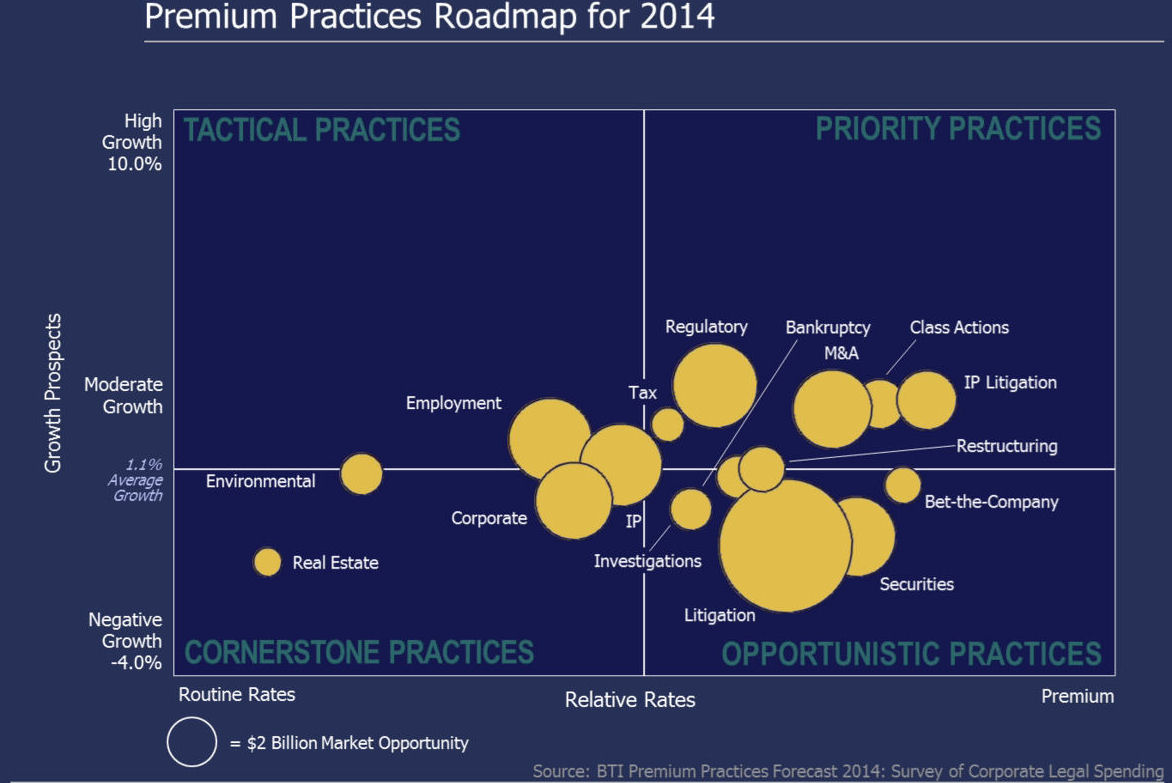 Business development opportunities
Average Marketing Budgets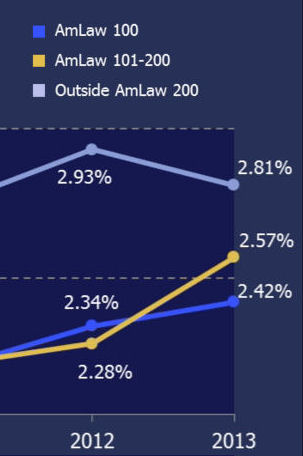 Rynowecer offered several business development tips:
Law firms can make themselves valuable by training the new in-house lawyers who will be handling the additional work.
Form a triage team with clients to jointly asses new matters as they come in, and meet monthly or biweekly. BTI says that corporations plan to settle 40% of all their litigation.
Offer to sit on clients' new product development committees to help spot IP opportunities.
Swarm clients with online value-added tools such as checklists, guidelines and self-assessments.
Key law firm marketing activities that will result in being recommended first include demonstrating an understanding the client's business, providing value for the dollar, and showing a commitment to help, that is, showing an interest in solving a client's problems rather than finding ways to bill hours.
Successful law firms develop customized presentations for clients and send partners to brief clients in a 2-3 hour session.
The best opportunities for new business arise with global organizations operating in the US and mid-market companies that wish to expand into other countries. "Global companies show an especially strong interest in using both mid-sized as well as larger firms in Litigation, Employment, IP, IP Litigation, Regulatory, Corporate and small- and mid-sized M&A," Rynowecer said.
"Marketing and business development skills will be essential in terms of long term growth for law firms. In this market you are either a predator or prey, there is absolutely nothing in between," he said.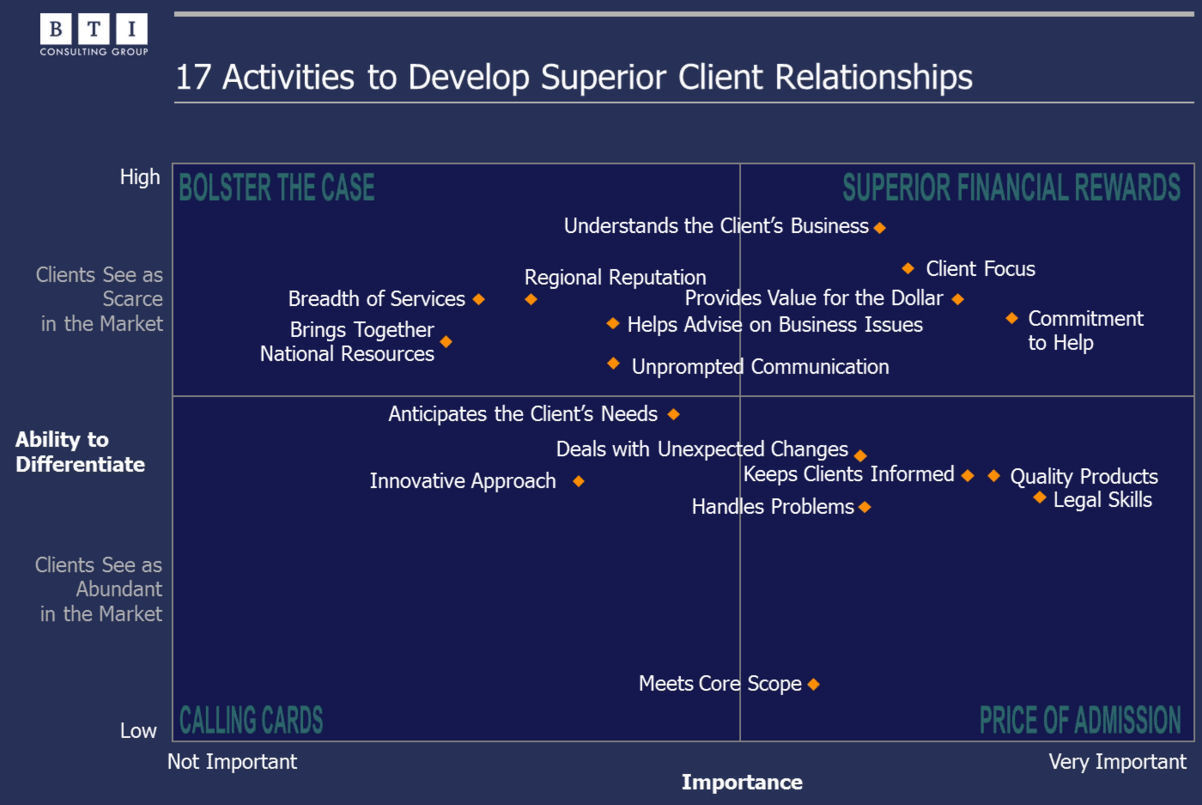 When you read this statistic, let it sink in:
3 out of 4 consumers seeking an attorney over the last year used online resources at some point in the process*
The way consumers look for a lawyer has changed in today's digital age. The advent of social media, smart phones and search engines has dramatically affected the way consumers find lawyers.
Nowadays:
People send a quick text instead to avoid a time-consuming phone call.
People write emails and send attachments instead of going over documents in person.
People attend conference calls and web meetings instead of meeting face to face because it saves time and money.
This new kind of communication is more efficient, but it diminishes the amount of direct contact people have with each other. People bank online to avoid tellers, look up phone numbers online to avoid operators and read news online to avoid buying a paper.
Think about it. Would you ask your neighbor whom to call if you were charged with a crime? Would you ask your relatives to help you shop for a divorce lawyer? I don't think so. You'd rather research these issues in private by opening your laptop. And with smart phones now outselling computers, a wide swath of consumers can conduct an online search.
Huge change in consumer behavior
This huge change in consumer behavior has taken place in the last ten years. LinkedIn launched in 2003, Facebook went online in 2004 and Twitter appeared in 2006. Consumers can now get input from family and friends through online directories and social media like Facebook, LinkedIn and Twitter.
Social media have grown exponentially so that they've entered every corner of American life. The best example is Facebook, which has grown to 900 million users who spend an average of 7 hours and 45 minutes per month on the site, according to The Nielsen Company. It is now possible to get advice about hiring a lawyer from dozens of contacts and connections by reviewing what they say on social media.
What this means for 21st Century Lawyers
For lawyers, it is essential to have a website and blog that discuss the legal problems of consumers. An attorney's online presence should feature FAQs, white papers and checklists to be found by consumers conducing online research.
Lawyer websites and blogs must be optimized for search engines, particularly Google, so that they rank high in search engine results. A LexisNexis law firm marketing specialist can conduct a search engine optimization review, compare your site with competitors' and evaluate whether your site uses the latest best practices.
It is clear that a huge conversation is taking place online. The search for a lawyer has moved out of the family living room or neighbor's back yard, and moved onto the Internet. For lawyers who want to get leads and find clients, it means having a robust directory profile, activity on social media and client-friendly websites. Lawyers can join the conversation - or miss many opportunities to find consumer clients.
*Based on a survey of 4,000 adult internet users (internet users comprise 78% of the US adult population and **the US adult population comprises 235 million according to the US Census 2010) conducted by The Research Intelligence Group (TRiG), March 2012. **According to The Pew Research Center's Internet & American Life Project's Spring Tracking Survey conducted April 26-May 22, 2011.
---
If you're not worried about your online reputation, you need to read more expert authors. We have ten cool tools you can use to check your online reputation and make sure there's nothing negative (and false) spreading online. Protecting your identity and reputation is very important, even if you're not a celebrity or trying to run a business. Our list is going to help you keep on top of everything so that your reputation isn't smeared online.
Tools for Checking Online Reputation
Here's a look at ten specific ways you can keep track of your online reputation.
BrandYourself - This is a free tool that will help you keep track of where your name is coming up in the search engines - even if you have a name similar to someone who is famous.

About Me - This is a very simple (but useful) service that allows you to easily set-up a webpage that's all about you. Once you have this page, you can direct people from Facebook or Twitter to it to learn more about you.

Social Mention - If you want to know about mentions of you or your brand on social media networks, this is the tool to use as it concentrates on the major ones and others you may not have heard about before.

Who's Talkin? - For getting mentions and alerts when someone is talking about you or your company online, this is a very simple and free online tool that can help.

NameChk - This tool makes sure no "squatters" are using your name on any of the social media networks. Just fill out the information and let this tool check all the social networks for you automatically.

HootSuite - This is more of a full featured social media management tool, but it's also very useful for making sure you stay up to date on any mentions you get on the major social media networks.

Google Alerts - Google also makes it easy to set up an alert for any search you want - like for your name or brand. You can customize how often you get email notifications as well as what sources Google will check.

Yasni - If you type your name or brand into this online tool, you might be surprised at what you find. The site makes it very easy to keep track of what people are saying about you online.

Better Business Bureau - If you have an online business, you're going to want to make sure you have an official BBB page and that you're not getting negative comments from anyone.

Hire Someone - This is not an online tool, but you can hire a VA (virtual assistant) to spend time each day scouring the web for your name or brand. They're going to use a lot of the tools mentioned above, but if you want to save time you can spend a little money to hire someone.
Using some or all of the tools and techniques listed above will ensure you have a handle on what other people are saying about you online - automatically.
Sara Xiang likes to read Ally Bank reviews online whenever possible. She has a job dealing with reputation management strategies and likes to do her banking online.