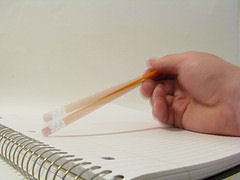 As virtual meetings become more commonplace, legacy web conferencing software is wasting an unacceptable amount of time, according to a new study from Ovum and join.me.
It is based on a survey of more than 3,900 full-time professionals worldwide, regarding their collaborative behaviors and activities. The key findings from this report:
Late start times are costing executives 5 days and 19 hours per year in lost time and productivity.
Technical difficulties with web conferencing software is the number one cause of delayed meetings.

More than 50 percent of employees report that the number of meetings they have is increasing.

32% of all meetings are virtual, a trend that skews higher for younger workers.
Frustration with traditional web conferencing tools has led 66% of corporate buyers to look for new collaboration solutions to accommodate an increasingly collaborative and connected workforce
You can download Death of the Web Conference (as we know it) for free.
Believe it or not, the best subject lines start with "Re:" "RE: Follow Up" "Re: update" "Re: Introduction" and "Re: Checking in"

Smart lawyers turn their bios into a marketing magnet that generates leads, as opposed to a mere resume or a CV, which recites only your education and experience. The trick is to turn a feature of yourself into a benefit to the client. In other words, if you've done a particular activity, you need to answer the question, "So what?" If a client knows you've done something, how does that benefit them?
A "feature" is what something has, like a car with four doors or a new improved formula. A "benefit" is what it does for clients: "This car has four doors to accommodate growing families."
Here's how to tell the difference: When you hear a product claim, ask the question, "So what does that do for me?" If there is no answer to that question, you just heard a feature. If there is an answer, you just heard a benefit.
For example, consider a hardware-store drill. You look on the box and it tells you the volts and amps and RPMs, but what you're really buying is a hole. If you're buying lipstick, it can have a fancy formula, but what women are buying is something that makes them more attractive. And the same thing with pants. If it's got Lycra panels, what you want is to look ten pounds thinner.
Benefits bring new business
This analysis applies directly to lawyer bios. Benefits are what will generate leads for you; they are going to turn your bio into something that's going to make people call you. If you're trying to reach businesses that want to retain you for legal services, they are looking for business benefits. They want to:
Make more money
Keep more money
Save time
Cut costs
Reduce risk
Importantly, they want you to make them look good
If a CEO client has a troublesome issue that he must present to the Board of Directors, you can work with the CEO to put a good spin on it; you've just saved the CEO's job and made him look good. Or, if its litigation and you're working with the CEO, you want the company to look good to the shareholders. Those are the sort of benefits that clients are looking for.
If you look at a lot of attorneys' bios, you'll find few there are not a lot of distinctions or differences between them. Many partner bios begin with "Mr. Jones is a senior shareholder and is chair of the firm's corporate practice group. He has 25 years experience." So what? These are features.
Let's revise it to say:
Mr. Jones is a senior shareholder in the firm's corporate practice, and can counsel you through your corporate transactions with the confidence and expertise clients seek. With more than 25 years of real-world experience, he knows how to bring many time- and money-saving solutions to your business problems.
Let's look at some of the changes. I kept in "senior shareholder" and "corporate practice" but the "so what?" is that he can "counsel you through your real estate and corporate transactions with the confidence and expertise clients seek." So, I extended the feature into having a benefit from the client's perspective. And what does having "more than 25 years of experience" mean for the client? "He knows how to bring many time- and money-saving solutions to your business problems."
What lawyers need to do is to provide proof points when they make an assertion in a bio. They must have some evidence or examples of what the assertion means for the client.
Common features in bios
Another common feature that appears in lawyer bios is the fact that they lecture or speak on particular issues. What might be a potential benefit?
It shows you're up to speed in the latest trends and news.
It shows people want to hear what you have to say.
It makes it sound as if you are frequently in front of people like your client, so you're up to speed with their business.
However your bio must spell out these benefits expressly.
Another feature that shows up on a lot of lawyer bios is "He has testified before the State Legislature, and has assisted legislators and their staff in drafting laws." If I were a client that was affected by their legislation, what would be the benefit to me of the capability you have identified?
It shows you may have some influence and credibility. It demonstrates that you know how those laws are interpreted and executed. It may show that the lawyer has helped the Legislature pass certain bills into law. Again, it's taking a capability and turning it into something that matters to the client.
Some features have no benefits for clients, like she has "been an active member of the County Bar Association where she has served on the Bar Council." Clients expect you to belong to a bar association. They have no idea what the bar council is. The only benefit that I can see is to other lawyers who may send you a referral. However, for clients I would add "and many other lawyers refer their cases to this person, who is considered a 'lawyer's lawyer.'"
Original written content is the most important tool for social media marketing, according to new research that surveyed thousands of small businesses that seek consumer customers.
Just released, the 2014 Social Media Marketing Industry Report published by Social Media Examiner, applies directly to attorney marketing. The overwhelming majority of marketers (94%) use original written content as part of their marketing efforts to reach consumer clients. Curation of other people's content is also popular (73%) among marketers.
Blogging is a popular legal marketing tactic, and 68% of marketers plan on increasing their use of blogging. According to the new ABA Legal Technology Survey Report, 27% of law firms have legal blogs and 10% of individual lawyers have blogs. An exact count hard to pin down, butJustia is tracking 5,780 lawyer blogs in 74 practice areas.
Not since 2010 has blogging topped the list as the No. 1 area of increased activity for marketers in prior research by Social Media Examiner.
Written content marketing is top technique
Other recent surveys confirm that content marketing must be the first-line technique to drive other types of marketing. More than half of marketers (58%) selected original written content as their most important content. This chart clearly reveals the importance of the written word and blogging.
When publishing content, "corporate journalism" is the best law firm marketing technique to get a message through to potential clients of all kinds.
"Corporate journalism is a practice that combines an organization's market intelligence and subject-matter expertise with the credibility and narrative techniques of professional journalism," according to additional new research.
Smart law firms take these steps:
Appoint a dedicated "content manager."
Hire a professional writer with the appropriate knowledge, skills and training.
Create a document describing the corporate journalism strategy.
To get a free, no-obligation Content Evaluation of your website, please contact me.
For high-growth firms, blogging is the single most important business development tactic – it is more effective than SEO, social media or email marketing.
"What's really important is that blogging is one of the key things that by itself will help you with your SEO," said Lee Frederiksen, managing partner of Hinge Marketing, speaking on a recent webinar.
Combined with the fact that 80% of potential clients will check out lawyers by visiting their websites, it is essential for lawyers to have a blog that is updated frequently with unique content.
A vibrant blog will increase a law firm's visibility, bolster the firm's reputation and brand, and communicate the firm's expertise.
According to Frederiksen, what makes a blog successful is a consistent flow of content, educational posts relevant to the target audience, and a conversion offer -- meaning an offer of something free, like a download, in exchange for getting the visitor's email address.
"We get 300 to 500 leads per month from our blog," said Matt Heinz, president of HeinzMarketing, whose blog is updated daily, including some weekends.
He offered several tips:
Create an editorial calendar for the blog, so that you plan out blog posts in relation to conferences, dates and events that are important to your audience.
Avoid writing about the law firm. Instead, tell stories about successes you achieve for clients.
Promote two-way communication, by letting visitors comment on your blog posts.
Consider adding video, which improves search engine results.
Heinz said there are many sources of inspiration, including client questions, news stories, public statements by firm leadership, trade magazines, conferences, webinars, Twitter hashtags and LinkedIn answers.
Hire a professional
He added that a blog post can take two to four hours to write, and for lawyers it makes sense to outsource the writing, and to retain a professional service to provide drafts of blog posts. "You are not going to have the busiest people in your firm doing a lot of blogging. For senior people, work with a writer who can interview them and turn their notes into a blog post," Heinz said.
He offered several ways to double the volume of leads generated by a blog:
1. In blog posts, include links to an eBook or free report that can be downloaded.
2. Display offers about downloads into the sidebar of the blog.
3. Add italicized offers at the bottom of a blog post.
4. Measure which topics convert the best, and make a point of blogging on those topics.
5. Repurpose past blog posts by editing them into best EBooks and special reports.
6. Optimize posts as you write them by including keywords and links to previous blog posts. WordPress offers plugins that prompt a writer with tactics to optimize a post.
And if your blog just isn't pulling in as many leads as it used to, redesign the blog completely to boost your traffic, as Hinge did recently.
Get a free Content Review of your website today. Email me the URL of your website -- or call 520.577.9759 -- for your no-obligation content evaluation.
Yes. Our lawyers wrote many of the blog posts for law firm customers with the web visibility and blogging project at LexisNexis. Our team has written drafts of thousands of blog posts for law firms in most practice areas and jurisdictions. We can help your law firm blogging attract new clients, retain existing ones and build thought leadership. Click to download PDFs of actual law firm case studies.
Is your personal injury website not working to get new clients?
Not getting enough traffic?
Not getting any engagement with visitors?
Getting the wrong traffic?
Visitors not turning into clients?
Clobbered by Google's Panda 4.0?
It's time for a complimentary Content Evaluation by Larry Bodine, Esq., The Law Blog Guru.
All the SEO and pay-per-click in the world won't help you if your law firm website has a content problem. Content marketing is the most effective method of attorney marketing and law firm marketing.
» Lawyers try to market their law firms by using their websites to talk about themselves, and fail to talk about their clients. Attorneys should instead set out pages telling stories that engage visitors.
» Many lawyers fail to update their websites regularly with material that turns visitors into clients. Others try to get clients by putting up snippets from other websites or scraping content from elsewhere, and are shocked when Google demotes their website from page one to page 20 in search results.
Find out how to get clients with your personal injury website, by having a professional journalist/lawyer recommend a content marketing approach that gets you the right visitors who turn into clients. Email me the URL of your website -- or call 520.577.9759 -- for your no-obligation content evaluation.
The rollout of Google's Panda 4.0 update in May promoted "quality" websites and downgraded "low quality" sites. As a result, some law firm websites saw their organic traffic and search engine rankings drop by 30% to 40%.
So what is quality in Google's view? We know that bad quality is duplicate content copied from other websites, pages that just have one or two sentences, and thinly-rewritten content that no one is engaging with.
Thanks to an official blog post by Google Fellow Amit Singhal, we have a 23-point checklist:
Would you trust the information presented in this article?
Is this article written by an expert or enthusiast who knows the topic well, or is it more shallow in nature?
Does the site have duplicate, overlapping, or redundant articles on the same or similar topics with slightly different keyword variations?
Would you be comfortable giving your credit card information to this site?
Does this article have spelling, stylistic, or factual errors?
Are the topics driven by genuine interests of readers of the site, or does the site generate content by attempting to guess what might rank well in search engines?
Does the article provide original content or information, original reporting, original research, or original analysis?
Does the page provide substantial value when compared to other pages in search results?
How much quality control is done on content?
Does the article describe both sides of a story?
Is the site a recognized authority on its topic?
Is the content mass-produced by or outsourced to a large number of creators, or spread across a large network of sites, so that individual pages or sites don't get as much attention or care?
Was the article edited well, or does it appear sloppy or hastily produced?
For a health related query, would you trust information from this site?
Would you recognize this site as an authoritative source when mentioned by name?
Does this article provide a complete or comprehensive description of the topic?
Does this article contain insightful analysis or interesting information that is beyond obvious?
Is this the sort of page you'd want to bookmark, share with a friend, or recommend?
Does this article have an excessive amount of ads that distract from or interfere with the main content?
Would you expect to see this article in a printed magazine, encyclopedia or book?
Now that you have the official Google checklist, how did you site rate?