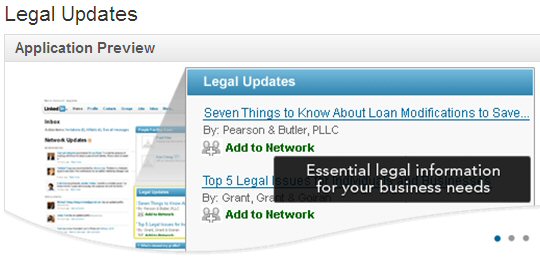 JD Supra is an online marketing site that lets lawyers upload articles, forms and court opinions for free and then distributes them over new media platforms like Google News, Twitter, RSS feeds, Facebook, syndication partnerships, and a JD Supra widget for maximum exposure.
Now LinkedIn, the online social network used by more than 70 million professionals, has added JD Supra's Legal Updates (http://bit.ly/c8JRjh) to its exclusive list of 16 Intelligent Applications (InApps), which also include Reading List by Amazon and Presentation by Google.
Powered by JD Supra content -- articles and analysis published by legal professionals around the world -- Legal Updates distributes a feed of expert commentary and guidance as well as legal news tailored to the professional interests of LinkedIn members. Currently, Legal Updates is the only application for distribution of professional legal content and information available on LinkedIn. It is free to LinkedIn members and available immediately.
The Legal Updates app will be the subject of an online demonstration led by JD Supra founder Aviva Cuyler, on July 22, 2010, at 1:00 p.m. ET/10:00 a.m. PT. Webinar registration: http://bit.ly/9NOeuL.
Cuyler and co-founder Adrian Lurssen will demonstrate the application's more powerful features, including customized legal feeds on LinkedIn and the ability for users to recommend JD Supra documents to their LinkedIn contacts as well as sync their JD Supra and LinkedIn profiles.
"Legal Updates is a perfect app for the LinkedIn community because to anyone who needs to be aware of legal developments," Cuyler said. "JD Supra content reaches LinkedIn members when they are focused on business and looking to make professional connections -- the best moment for lawyers to show off their expertise," said Lurssen.