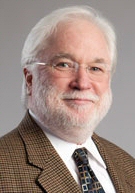 Allen Pusey, a veteran journalist, has been named the ABA Journal's editor and publisher after serving as managing editor since 2007. He's been the acting editor since May, after Edward A. Adams, left the Journal to become the Multimedia Editor for Bloomberg Law.
Pusey worked for 26 years at the Dallas Morning News as an investigative reporter, feature writer, special projects editor and U.S. Supreme Court correspondent.
In one signature project, Pusey worked on a study of 14,000 Dallas County jurors and a survey of federal judges regarding their attitudes about the jury system.
He also was one of the first reporters in the country to uncover the savings and loan crisis of the late 1980s.
Pusey becomes the fourth editor and publisher of the ABA Journal in the past 11 years. I was the editor and publisher at the magazine during the 1990s, and maybe we should start an alumni association.
In addition to directing the editorial and business operations of the magazine, Pusey will oversee the Journal's email publications and website. The electronic publications are distributed to more than 400,000 readers each week. The magazine goes to all members of the association and some outside subscribers. Pusey also will be a member of the ABA's senior management team.
"The ABA Journal is an extraordinary publication with a very unique place in legal journalism," Pusey says. "We have a terrific staff who have fascinating stories to tell about the people and issues that shape the law in these very interesting times."
Pusey served for 19 years as a board member of the Center for Public Integrity in Washington, D.C. He attended Davidson College in North Carolina before joining the U.S. Army and serving in Vietnam. He later graduated from the University of Texas-Dallas with a degree in sociology.
Congratulations Ed! Best of luck in your new position.