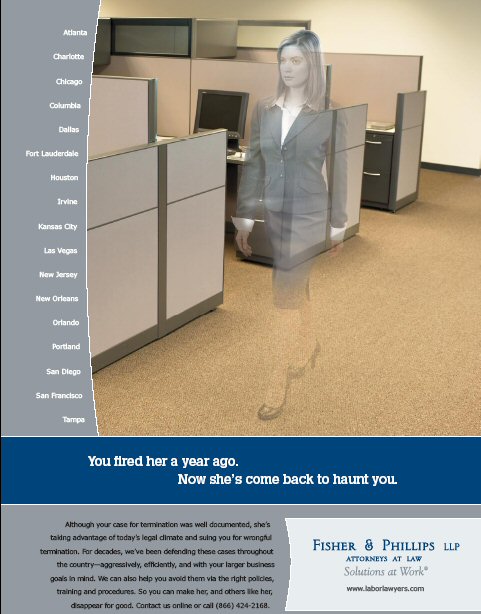 The ghost in the Fisher & Phillips LLP advertisement began to appear in late 2006.
"The ad was very well received by the partners of the firm. Most agreed that it sent a powerful message to our clients and prospects," said Kevin L. Sullivan, Chief Marketing Officer.
The ad was published in five trade publications and in all of the firm's local markets except Florida where a different ad ran. Sixteen local publications are involved in the campaign. "The ads will start to appear again in March or April depending on the market. The "ghost" ad will not run all year, but is part of a three-ad series we are running this year," Sullivan said.
The ad depicts a spectral image of a woman in an office with the tagline, "You fired her a year ago. Now she's come back to haunt you." It won the firm a 2007 LMA Your Honor Award. To see the winning ad full-size in a PDF file, visit http://www.laborlawyers.com/files/13146_Ghost%20Ad.pdf
Continue Reading...