We've all seen the unreadable law firm announcements: letters in all-caps in Copperplate Gothic font saying, "We are pleased to announce..." Usually that's the point where everyone stops reading.
That's because they are self-congratulatory announcements about an internal personnel decision that means nothing to anyone outside the law firm.
Finally the folks at Greenfield/Belser Ltd. created an ad/announcement for Luce Forward's San Francisco office that is creative and also actually speaks to clients: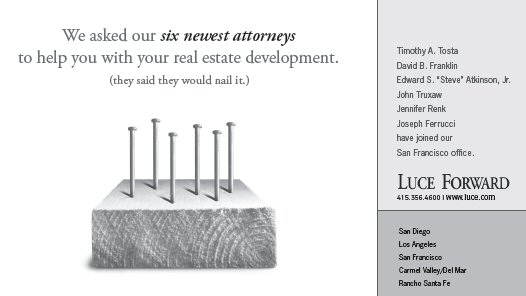 "Unlike most law firm announcements where the firm is really congratulating themselves on attracting a top attorney to their firm, this one speaks to the client and highlights the benefit the addition of these new real estate attorneys will bring to Luce Forward's clients," said Jeffrey Morgan, Principal at Greenfield/Belser. "After all, isn't that who should know and care about the addition of new talent -- your buyers?"
Kudos for a great job. The ad is running exactly like this in the legal trades and the real estate trades.