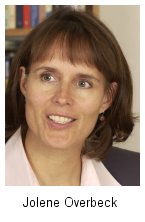 After a few months working as a consultant at 3,400-lawyer DLA Piper, Jolene M. Overbeck has been hired into the newly created position of Chief Marketing Officer. In her new role, Overbeck will oversee all aspects of DLA Piper's marketing and business development efforts in 24 countries.
Jolene, formerly of the Zeughauser Group, is the former CMO of Latham & Watkins and Shearman & Sterling. Her career spans 25 years in law firm marketing.
Nigel Knowles, Joint CEO of DLA Piper, commented: "Jolene led marketing efforts at two of the most successful international firms, and has the extremely rare skills and experience to position DLA Piper as the leading provider of global legal services."