Investment firms do it, consulting firms do it. Why shouldn't law firms take their articles, speeches and white papers and sell them online? If they're giving them away as marketing propaganda, the Web site visitor has to wonder if it's worth anything.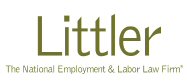 Littler Mendelson sells The Employer package of conferences, books and CDS at http://www.littler.com/compliancetools/index.cfm?event=detail&childViewID=219. Admission to The Executive Employer® Conference is $1,795. For more than two decades Littler has written and published The Employer books. This series of national and state reference books provide practical advice to management concerning employment and labor relations.
If a partner at your firm has given a speech entitled, "The Top 10 Ways Business Get Into Legal Trouble," I recommend the firm reduce it into writing, save it as a PDF file, and sell it on the firm Web site. Putting a price on it conveys that the information is really worth something. Plus it creates scarcity -- the document isn't some promotional piece potential can get anywhere -- it's available only on the law firm Web site.
The same goes for white papers that lawyers must write when they give CLE courses. Sure, the state bar or conference sponsor put the white paper in the handout materials for attendees, but they're the only ones who will ever see it. For everyone else, the firm should put a price on it and sell it.
The New York Times and Wall Street Journal sell their archived articles online. Hoovers, Lexis and Thompson sell their information for a subscription fee. The one message that came through loud and clear at the Marketing Sherpa online marketing conference in New York is that too many businesses are giving their best stuff away. They are making it free when they could be charging for it.
Of course, selling partner white papers, articles and speeches will not be a significant revenue source for the law firm. That's not the point. By selling its intellectual content online, the firm is conveying that its in-person legal services are special, have value and are worth paying a high hourly fee for.