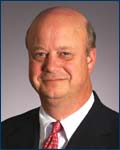 A Chicago lawyer's comment to a bankruptcy judge in court has gotten him in some hot water, or perhaps more appropriately, hot oil.
"I suggest with respect, Your Honor, that you're a few french fries short of a Happy Meal in terms of what's likely to take place," William Smith, a partner with Chicago-based McDermott Will & Emery LLP, said during a hearing May 7 in Miami in front of Judge Laurel Myerson Isicoff, according to court documents.
Mr. Smith's comment represents "conduct that appears to be inconsistent with the requirements of professional conduct," Judge Isicoff wrote in an order for Mr. Smith to appear before her June 25 "to show cause why he should not be suspended from practice before this court."
Though he's not licensed to practice in Florida, Mr. Smith has been granted permission to appear in this particular case. Judge Isicoff could revoke that permission at the June 25 hearing.
Drew Schadegg of TC Public Relations in Chicago said, "What a legal PR nightmare! This firm needs a better media relations agency."
For the rest of the article go to http://chicagobusiness.com/cgi-bin/news.pl?id=25157