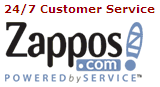 In this bleak world of self-service checkout at grocery stores, indifferent and awful serivce from United and American airlines, and unintelligible, overseas help desks from computer companies -- there is a bright spot: Zappos Shoes. Everyone, including law firms, should market like Zappos.com
I heard about them by word of mouth -- the best advertising there is. A friend told my wife that the company had every shoe you could want, and offered overnight shipping for purchases and returns. It was hard to believe, but I went online and ordered two pairs of shoes. The next day they arrived and I was impressed. Law firms should be so good serving their clients.
Over the next 20 days I discovered that one pair of shoes was uncomfortable. So I called the toll free number, cringing as I asked what their return policy was. A cheerful man who actually spoke English said he would be delighted to refund or exchange them. I was floored. "That's what we're here for," he said.
He happily helped me pick out a replacement pair of shoes. While we were on the phone he emailed me a free return label for the old shoes. Shipping was free, there was no restocking fee and he credited me $30 for the cheaper replacements. LIke a man who once was lost but now was found, I told him he was amazing.
"We like to think of ourselves as a service company that sells shoes," he said.
I will always buy shoes from Zappos.com. I will tell everyone I know about how great Zappos.com is. The company had taken a generic product -- shoes -- and distinguished itself with outstanding customer service. Smart law firms will do the same with their clients.