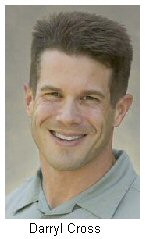 Darryl W. Cross is a marketer who can "see in the dark." He has personally visited hundreds of law firms across the U.S. and until now he has revealed his secret business development techniques only privately. On August 9 business development expert Michael Cummings and I will interview Darryl, and he will disclose his ultimate business-getting secrets in this not-to-be-missed Webinar.
This session will address how your firm can earn its place as an irreplaceable, trusted advisor that not only handles your client's legal matters, but actually helps them make more money.
Know how a client makes money and find out how you can help
How you assist with profits, process and people will determine whether you
Knowing industry information is the key to cross-selling and retention
According to Darryl Cross, the ultimate client development tool is to ensure the future profitability of your clients. Beyond doing "good work" and promptly returning phone calls, it requires a proactive approach to learning about their business, their industry and their competitors. The "Profitability Program" also entails working and communicating in teams, analyzing trends and being able to take action quickly.
Register today. Fee: $300. Invite your management and marketing committees, income partners, associates and as many people as you wish to attend. Simply project the program on a screen and put the telephone connection on a speakerphone.
The Curriculum:
"Think Small" and "Act" Big" by identifying the 3-5 clients with whom you will use the Profitability Approach.

Developing highly specific proposals for your clients that solve business problems.

Changing your way of thinking -- looking at the client's company the way the CEO does. Lawyers look at a company from today and the past; the CEO looks at the company from today and 90 days ahead.

Learning which specific facts you must know about your client.

Identifying "disruptive events" in the client's business that will lead to new legal work for you, and how to get information about these events.

Watching competitors of your client, and what to notify your client about them.
The program will go into specific examples how the Profitability Program works -- including the kinds of disruptive events that lead to new files, a description of how business owners look at their companies, and how to interpret a client's business problems so that you can fixes a known problem the client has.
Attendees will turn the lessons of this program directly into new files and new revenue.

Contact Laura Kresich: (773) 966-9273
or email Lkresich@LawMarketing.com
Sign up online at http://www.pbdi.org/pages/cceventform.asp?EventID=158
About the Speaker: Darryl Cross
Director, Strategy and Competitive Intelligence LexisNexis
Darryl joined LexisNexis in 2004 and oversees strategy and training for all LexisNexis Client Development offerings including client relationship management software, Martindale-Hubbell and competitive intelligence systems. He has also managed client development for strategic law firm accounts and the InterAction CRM external partner program.
Darryl's direct experience in professional service organizations includes his service as the Chief Marketing Officer and member of the Executive Committee of a law firm based in Cleveland, OH. During his tenure, he was awarded the one of the most prestigious national awards in legal marketing, the Marketing Partner Forum's Excellence in Marketing Award, for "Creating a Sales Culture at a Law Firm." He was also a finalist for the 2003 National Marketing Director of the Year and 2004 Marketing Initiative of the Year.
Darryl is a member of the Legal Sales and Service Organization and serves on their Board of Editors. He is a current member of the Legal Marketing Association and a former member of the Board of Directors for their Mid-Atlantic chapter.
A large portion of Darryl's time is spent collecting and sharing best practices with hundreds of the nation's leading law firms as well as providing business analysis to help them grow.
He is an internationally known author, dynamic speaker and "evangelist" on the subjects of relationship intelligence, client development, competitive intelligence, and creating actionable strategies that turn marketing ideas into actual results.