The website JD Supra is preparing to launch – the new user-generated site for the legal community. YouTube has finally met the Law. And it's free.
Right now the site is collecting contact information for Founding Contributors of court filings, decisions and legal articles - it's your chance to get in on the ground floor. I've been working on the project for four months, and we're reaching out to colleagues and supporters to send us their contact information so we can give them a link to tour the site, contribute content and pre-register for a profile before we launch.
Even if you just want to keep posted on the progress, simply sign up at www.JDSupra.com.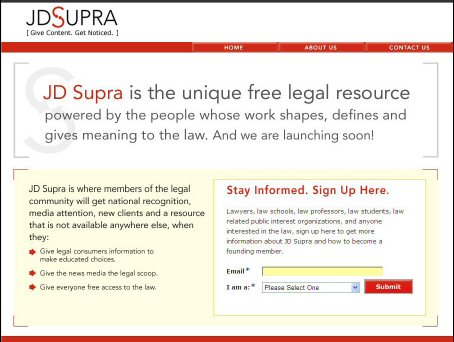 California litigator Aviva Cuyler founded JD Supra to give members of the legal community an effective and convenient place to showcase their work and their successes and thereby:
Get new clients.
Get national recognition and media attention.
Get a free, easy- to- use legal research resource with documents that are not available anywhere else.
Did I mention it was free? You don't have to pay to post a document. You don't have to pay to search for documents – which are available nowhere else. And you don't have to pay to have a profile.
JD Supra will promote anyone who pre-registers and contributes court filings, decisions, orders, verdicts or articles before the launch as a Founding Contributor. Don't wait – sign up at www.jdsupra.com now.