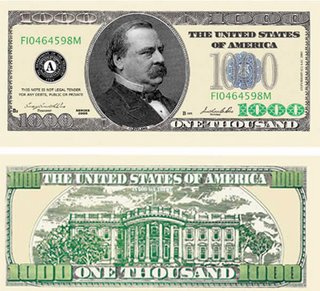 It finally happened: lawyers have begun charging $1,000 per hour.
"We have viewed $1,000 an hour as a possible vomit point for clients. Frankly, it's a little hard to think about anyone who doesn't save lives being worth this much money," David Boies, one of the nation's best-known trial lawyers told the Wall Street Journal.
As expected, it started in Manhattan:
Firm partner Barry Ostrager, private-equity specialist Richard Beattie and antitrust lawyer Kevin Arquit, all of New York's Simpson Thacher & Bartlett, will raise their top rate to more than $1,000 from $950.
The top biller at New York's Cadwalader, Wickersham & Taft hit $1,000 per hour earlier this year.
At Fried, Frank, Harris, Shriver & Jacobson LLP, also of New York, bankruptcy attorney Brad Scheler, now at $995 per hour, will likely soon charge $1,000.
Stephen Susman, a founding partner of a Houston firm who has tried big-ticket cases around the country, and Benjamin Civiletti, a former U.S. Attorney General under President Carter and a senior partner at Washington, D.C-based Venable began billing at $1,000 per hour last year.
This is a golden marketing opportunity for all other lawyers. I recommend you send the Wall Street Journal article, or simply send the link http://www.lawmarketing.com/$1000PerHourLegalFees.pdf, to all your clients and point out what a bargain you are.
Explain to them that you only charge a fair fee for value given, would never gouge a client with fees like this and that your client made a smart choice hiring your reasonably-priced law firm. Do this especially if your competitors are big New York law firms,
Research about more than 250 corporate counsel in 2007 shows 4% of corporate counsel are paying $1,000 or more, according to Michael B. Rynowecer of The BTI Consulting Group in Boston.
The law firms are in NYC, London and DC. The clients paying these rates are predominantly in the Fortune 100 and Global 500. The practices areas garnering these rates include:
Some of the law firms charging $1,000 plus hourly rates according to clients are:
Clifford Chance
Cravath
Freshfields
Linklaters
Proskauer Rose
Sullivan & Cromwell
This is not a large segment of the market, but clearly $1,000 hourly rates are a reality at the high end.