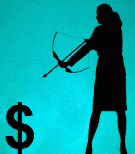 When you think of Web 2.0, law firms don't immediately pop into your head. But you'd be surprised. Law firms are getting into:
Online video
Animated Websites
Webinars
Search engine optimization
Competitive intelligence
Blogs that bring in new business
Selling products online
Wikis
I pointed out several examples at my recent talk at the new Legal Marketing Association chapter in Hartford, CT. To see the examples, just visit www.LarryBodine.com and click on "Slides for Hartford Legal Marketing Association presentation, "Technology & Business Development."