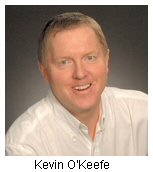 In an appropriately vehement post, Kevin O'Keefe spotlights the failure of law firms to market themselves on the Web -- saying "law firm online advertising, as is the case with other companies, sucks."
He calls on law firms instead to start "producing and disseminating content in the same way large companies are doing so - via blogs and RSS. Focused blog content cited by other bloggers and the main stream media creates a word of mouth buzz about your firm that's much more effective than other Internet advertising. And it's something you can be proud of as a lawyer - unlike a shlocky banner ad."
He argues that sponsored links at Google are not trusted by Internet users, banner ads are like billboards on the side of the road, and law firm websites offer little helpful information to current and prospective clients.
The answer? Be like Nike. "Law firms need to take a lead from companies like Nike, the subject of a recent New York Times article, for their Internet efforts." Blogger Steve Outing characterized Nike's use of blogs as becoming a 'media enterprise, not only producing content, but creating running (and other sports) communities, and producing useful online tools for athletes.'"
Keith is spot on. However, I disagree with Kevin about banner ads. I sell banner ads on the LawMarketing Portal and they look great and work well. Of course, my advertisers tend to be ad agencies and marketing companies, so their banners are first-class. Law firms, however, don't buy banners on the Portal.