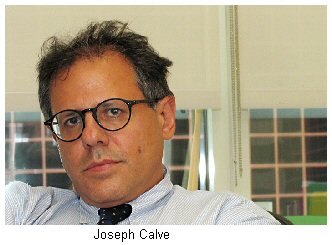 This year's "MLF 50" -- the Top 50 Law Firms in Marketing and Communications as ranked by Marketing the Firm newsletter -- is topped by Proskauer Rose. "This Year, It's All About 'Street Cred' and the Creation of Programs That 'Rock,'" said Editor Elizabeth Anne Tursi.
The other top winners were:
Number Two: Goodwin Procter
Number Three: Duane Morris
Number Four: Ropes & Gray
Number Five: Thompson Hine
Hear Joe speak on the upcoming Webinar "Adapt or Else -- How Marketers Become Business Developers" on November 14, 2007.
Marketers can coach lawyers to be rainmakers, and two of New York's prominent business developers -- Joe Calve and the firm's Sr. Senior Business Development Manager, Carolyn Rumpf -- show how it's done.
Law firms now take marketing for granted as budgets and resources for business development are increasing. This survival guide will show marketers new skills they can master to bring in new clients and revenue for their firms. [Read More]
Here's a snippet about Proskauer Rose:
Under the leadership of Chief Marketing Officer Joseph Calve, who joined the firm in October 2005, Proskauer Rose ranks number one on this year's list. While the firm has always been considered a "powerhouse" of talent, it has truly become a different firm and that's because of Calve and his team of marketing, business development and communications professionals who have taken it to the "next level."
The Business Development Department has built tremendous credibility within a very short time. It's not surprising that this team is heavily engaged in strategy at all levels, including:
Individual business planning;
Lateral acquisitions (more than 40 partners in two years);
Geographic expansion (London and Brazil in 2007; Asia in the works);
Practice Group Protocol — this is designed to drive strategic planning discipline across the firm;
Long-term strategic planning
Annual business and marketing planning.
Proskauer faced the same difficulties as other firms in measuring the impact of what it did and why it did it, but under Joe Calve and with the support of the firm's leadership, it has made great strides. For example, the firm spends large sums on sponsorships and events, but until last year, it tracked nothing. Now, the firm systematically gathers specific objectives from partners on the front end and conducts extensive debriefing sessions on the back end, capturing and deploying the info and issuing it to improve what they do and to make resource allocation decisions.
The firm also tracks every pitch and RFP and reports that information to the firm's leadership in a weekly pitch report, constantly doubling back to track results. The firm also has a system for tracking impact of media efforts. This level of disciplined tracking requires time and diligence, but it's worth the effort as Proskauer is seeing steady improvement in the effectiveness of its efforts. One measure of the success of its tracing is the firm's willingness to continue investing heavily in business development — almost doubling the size of the staff and more than tripling marketing spending, which had been well below industry standards and not where it should have been.
Currently, Proskauer's marketing staff stands at 42 people, with personnel spread across six offices.