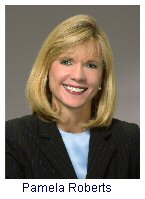 Pamela J. Roberts, Esq.
discloses in the November issue of
Originate
how she brought in the business for her firm, and built a thriving practice.
Her story illustrates how other women lawyers can do the same
, according to my case study. And her thirteen questions at the end of the article can stimulate your own success story.
---
Pamela Roberts, Esq., a partner at Nelson Mullins Riley & Scarborough, has cracked the code to becoming a rainmaker: get active in a big national organization, focus on public service and let the referrals come in. Her story illustrates how any lawyer can do the same; and her questions at the end of the article can stimulate your own success story.
She is no ordinary lawyer. Roberts is the Chair of the ABA Commission on Women in the Profession, a prominent national position that gives her frequent exposure on the wide range of issues facing women lawyers. And she does it while being a mother of four, wife of another partner in her firm and full-time business litigator at a 400-lawyer firm.
Only 17% of women lawyers are equity partners, and most firms have just a lone woman rainmaker – statistics that Roberts finds distressing. "Becoming a rainmaker always been somewhat challenging. It's so much more challenging for a woman," she said.
But she herself is active in four local charities, which brought her referrals. She is a regular public speaker before audiences of clients, and she attends trade association meetings in the industries of her clients.
How does she do it all? "I gave up on sleep," she joked. "Seriously, my husband and I made the decision that by having two people working full time, we have to pay for nannies and support help." Help is essential, especially when one of your kids is on two traveling soccer teams.
And so is focus. Roberts pursues activities and passions where she can build relationships. For her it's been the American Bar Association, where she began more than a decade ago by working her way up the Litigation Section. Her husband gave her an early demonstration of networking.
"I was attending an ABA Litigation section meeting... For the rest of her story visit Originate at http://www.pbdi.org/originate/.