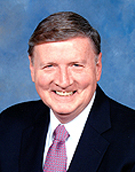 On the LawMarketing Listserv, there is currently a lively discussion on promoting a law firm via print advertising vs. Yellow Pages vs. the Web. [Visit www.lawmarketing.biz to join the discussion.] Dale Tincher of ConsultWebs offered an intelligent and detailed response to my initial comment:
Sure, you can make the the print ad better by including a person's name and number to contact, and can include a call to action (like requesting a white paper or survey), and this will produce something to measure. You can also target trade association magazines and publications that clients read to aim at a specific market. But I submit that websites, e-newsletters and direct mail letters are more effective at generating direct response.

Can you remember any particular law firm ad? Probably not. Perhaps you remember the Orrick "O" campaign, which has cost untold millions, but all I remember is the "O," not whether they're a good law firm. I also remember the ad with the picture a grizzly bear cuddling a human infant, but I don't remember which law firm ran it.
To which Dale Tincher responded:
I agree with Larry that (properly designed and SEO'd) websites, newsletters and direct mail letters are more effective than general advertising - - and the ROI can be measured. We have several clients who closely track their marketing efforts and have achieved impressive results from the web. Several of our clients receive 8 to 1 returns on the money they invest in the Internet. Some others receive more. One client, a serious injury firm that targets a region, receives a 90 to 1 return. One of our clients, Ken Hardison, a 7-figure annual advertiser, receives an 8 to 1 return on his investment and says that the Internet gives him a higher ROI and higher quality clients than any of his other marketing methods which include TV, Yellow Pages, print and many others.
Larry often talks about the ineffectiveness of Yellow Pages. Hardison & Associates and several of our clients invested heavily in Yellow Page directories in past years. Virtually all of them have ceased or dramatically reduced their Yellow Page advertising since the return dropped to less than a 2 to 1 return. (It is surprising to me that many firms do not measure their ROI on marketing investments.) Please see Mr. Hardison's video discussion on our Website. He states this information and other statistics in his video: http://www.consultwebs.com/clientcomments.htm Please also see my video where I reference client case results generated from the Internet – www.consultwebs.com.
I believe that Internet marketing is increasingly effective for many reasons. Some of them include:
Prospective clients start looking for a solution when they need help. They probably tuned out most general advertising prior to their need, especially warm, fuzzy ads. If you have a website that is search engine optimized well and is compelling, they will find your firm and contact you when they have the need – 24 hours per day, 7 days per week.
Advertisers are obtaining results from the Internet. Internet advertising and effectiveness are increasing while most advertising is decreasing. Please see our article, "Internet Advertising Rises While Traditional Advertising Shrinks" - http://www.consultwebs.com/internet_advertising_growth_article.htm. Heavily visited websites that relate to your practice areas can be good places to place your advertising. An additional benefit is that the incoming link can help your rankings;
Consumers are growing more comfortable shopping online for goods and services. Amazon stock rose nicely in late December (20%) while most retailers' stocks dipped - http://www.stuff.co.nz/stuff/4337972a28.html. Comscore stated that online holiday shopping rose 19% over last year http://www.comscore.com/press/release.asp?press=1987 while traditional storefront retailers discounted heavily and still had modest gains http://blogs.wsj.com/holidaysales/.
The Internet investment you make today will pay dividends for years to come if done properly, unlike traditional advertising such as one-time ads or spots,
I recommend that you be cautious about investing in legal directories. While some work fairly well, most are ineffective for a variety of reasons.
TV has worked well in the past for some of our clients. However, the way people view TV is changing – a fact that must be considered when planning TV advertising.Deloitte Touche's recently released, "State of the Media Democracy Survey" contains some interesting information - http://www.deloitte.com/dtt/article/0,1002,cid%253D182990,00.html. The survey includes the following comments:
TV content and TV-like content have the opportunity to dominate the future

69% of Americans consider their computer more entertaining than their TV, BUT . . .

58% also wish to easily connect their home TV to the Internet so they can download content or view anything at all they have on their PC (up 9 points from our 1st edition of the survey)

Over one-third of all consumers are watching TV shows online (a 15 point increase from our 1st edition)
I hope this is helpful.
Dale H. Tincher,CEO - dtincher@consultwebs.com
Consultwebs.com - Web Marketing & Design www.consultwebs.com
Consulting - NCBA - http://www.ncbar.org/membership/smolo/technologyassistance.aspx
Phone 800-872-6590; Fax 800-515-3549