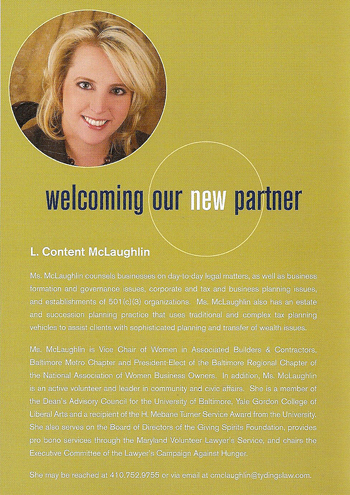 Tydings & Rosenberg sent out an eye-catching new-partner announcement that successfully serves a marketing purpose. It's a refreshing change from useless the black-and-white data-devoid announcement in Copperplate type that many law firms send out.
It's part of a trifold flyer that includes photos of the lawyers including four associates and a panel devoted to new partner L. Content McLaughlin. Tydings is a 47-lawyer firm with offices in Maryland and Washington, DC.
Why the works:
The popping-champagne bottle on the from panel looks like an invitation to a party, and entices the reader to open it.
The color photo indicates that an live human has join the ranks of the 28 partners.
It actually says what she does -- counsel business on day-to-day legal matters.
It mentions non-bar association activities, like being Vice Chair of Women in Associated builders & Contractors (so we immediately know she is a rainmaker), the National Association of Women Business Owners and several charities.
It lists her phone number and email address.
The card graphics use the concentric golden circles motif show on their website.
Kudos to the firm's veteran marketing director Denise Dewling.