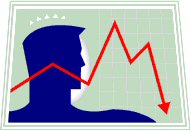 Once thought to be recession-proof, the legal profession is now in a recession that will include a drop in profits per partner, declining spending for legal services by corporations, attorney layoffs and a major competitive threat from law firms in
London
.
Here's what a panel of experts said at the recent Marketing Partner Forum:
We are in a recession right now – it's pretty obvious," said Sara Kraeski, Esq., Director of Business Development, Davis, Graham & Stubbs in Denver.

She is a former partner in a securities and private equity law firm and a graduate of the Wharton School.
"We are in the middle of the perfect storm. We don't want to be the best of the buggy makers, we want to thrive and survive, said blogger Patrick Lamb, Esq., the founder of the new Valorem Law Group, LLC, a national litigation boutique based in Chicago.
"There are warning signs that road ahead is riddled with landmines.

2008 looking like 2001 – when there were declining profits in the industry," said Dan Dipietro of the Law Firm Group for Citi Private Bank in New York.
There's a new challenge ahead that has the potential to cause the greatest change ever seen in the legal profession," said Wendy L. Bernero, Chief Marketing Officer for McKee Nelson in New York, referring to UK law firms that will be able to pick off top talent from US law firms.
For the rest of the story, visit the LawMarketing Portal.