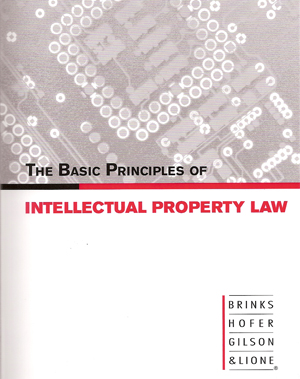 How often do general counsel wish they had a quick desk reference to get a quick definition of a legal concept outside their practice area. Real often. They don't want to appear stupid in front of their colleagues and don't want to pay their outside law firm for an explanation. The Web may have the answer but lawyers don't believe it's authoritative.
Suppose the in-house lawyer just wants to know in a few paragraphs about the novelty, non-obviousness and utility requirements of patentability. If he is a client of Brinks Hofer Gilson & Lione, which cleverly can be found at both www.usebrinks.com and also www.brinkshofer.com, he can simply check the 51-page pamphlet "the Basic principles of Intellectual property Law" that the firm sent them.
Brinks Hofer, a Chicago firm with 150 lawyers, was a Gold Sponsor of the Association of Corporate Counsel annual meeting last October in Chicago. At the conference exhibit hall the attendees loaded up on pens, mousepads and useless junk that are typically given out at booths. Then they went home and eventually forgot about the conference.
Waiting until after the beginning of the new year, Brinks Hofer sent out the pamphlets over the signature of Gary M. Ropski, the President of the law firm, who offered to answer any questions regarding intellectual property. The booklet was written by Steven L. Oberholtzer, managing partner of the firm's Ann Arbor office.
Kudos to Joy Long, Director of Business Development and Sydney Iglitzen, Public Relations Manager, whom I credit with this smart marketing technique. The booklet is a great example of follow-up, adds another "touch" between law firm and corporate law department, and delivers an added value.