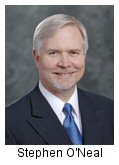 The recession which is hitting law firms has caused 600-lawyer Thelen Reid to lay off 26 associates and 85 members of its support staff, including members of the west coast marketing staff.
In my opinion, laying off marketers during an economic downturn is like dumping fuel when a plane is trying to stay in flight. The layoffs support Betiayn Tursi's op-ed piece in which she said marketing is undervalued by law firms. Tursi, who is Editor in Chief of Marketing The Law Firm, went on to say that "as soon as profits start to fall or management takes a hard long look at staffing--bye, bye marketing department."
Identities of the marketers hit by the layoffs were not immediately known.
Above the Law broke the layoff news, noting that Thelen Reid Brown Raysman & Steiner has 234 associates still named on its website, so the firm cut over 10% of their associates.
Co-chairman Stephen O'Neal told the Recorder and Above the Law that the associate layoffs are in response to the economic downturn, which has cut into its capital markets practice. He also said some of the staff cuts were partly because of redundancies following the firm's 2006 merger, which combined Francisco-based Thelen Reid & Priest and New York-based Brown Raysman Millstein Felder & Steiner.
"We are being prudent businesspeople," O'Neal told Above the Law. "When you are dealing with recessionary pressures, you adjust your business so you will have—and maintain—a strong level of profitability, notwithstanding those pressures."
At least one associate has been cut in each of the firm's nine offices. Both junior and senior-level associates are being laid off, mostly in the firm's business and finance, litigation and construction practices.