This miserable airline battered my trusty rolling suitcase into uselessness and then blew me off. Join my email campaign (see bottom) to let United know that we customers won't put up with this abuse.
They told me they had no liability for wrecking my luggage!
It didn't matter that I travel a lot in my business and am a target customer.
It didn't matter that I have been a Mileage Plus member since the 1980s.
It didn't matter that I've flown hundreds of thousands of miles on United.
Marketing Lesson No. 1: Treat your long-time clients well. Don't do things to make your customers hate you.
I knew I was in for a bad time when I landed at the airport and my suitcase was not on the conveyor belt. I reported my lost luggage and the United Airlines agent, who gave me an 800 number to call if my bag wasn't found soon. When they later delivered it to my house, the extendable handle was jammed shut. The suitcase would no longer roll, which was the point of having it. Plus the metal zipper pull had been torn off.
Marketing Lesson No. 2: Don't damage your customer's belongings.
I called the 800 number, which led to a voice mail maze. All I could learn were the hours the United luggage office was open way back at the airport. There was no way to call ahead to find out if they would fix the suitcase. So I had to drive 45 minutes, park my car half a mile away, and carry the damaged bag to the United office.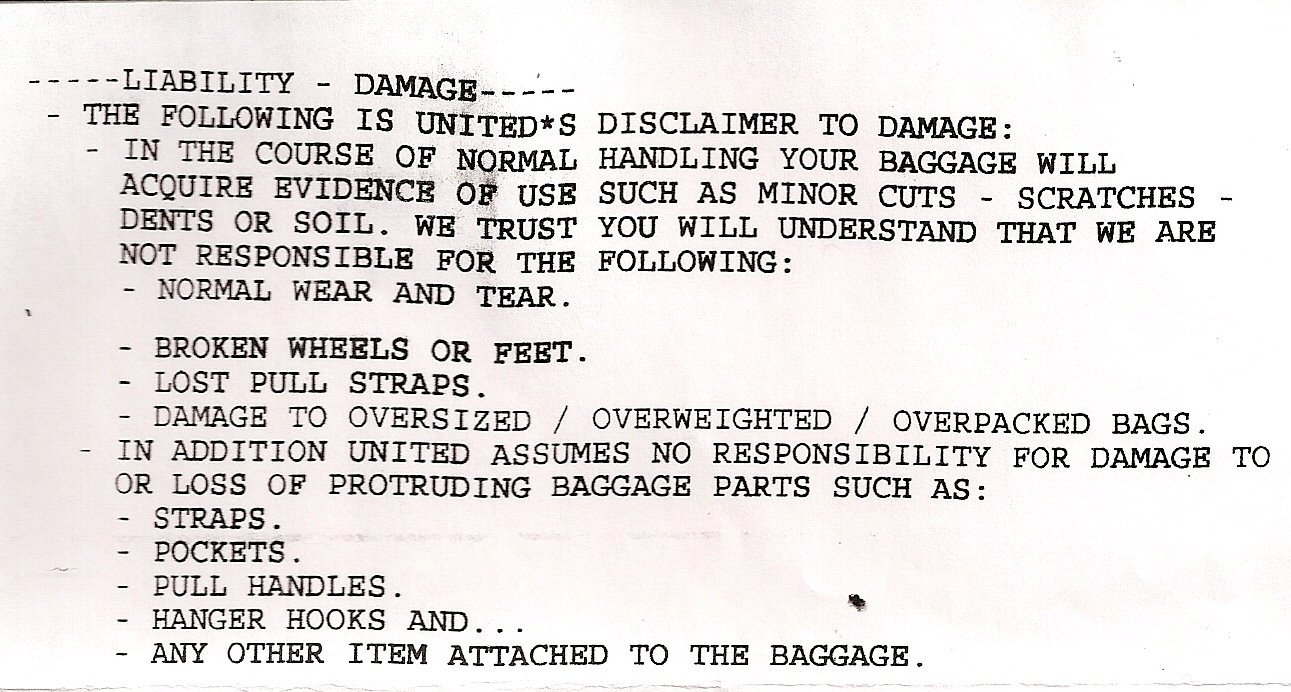 Marketing Lesson No. 3: Make it easy for your customers to reach you. Adding a personal touch by not hiding your contact information is what people want.
The moment I showed the United agent the bag, she blurted, "we're not responsible for damage to the luggage exterior." I asked, "then what are you responsible for?" She pulled out heavily-photocopied form (click on the image to see it full-size) that said the airline was not responsible for broken wheels or feet, lost pull straps, pockets, pull handles, hanger hooks and more. It was outraged. "Just because you say so, now I have to incur the cost of a new suitcase." Then I added, "I'll be flying Southwest from now on."
Marketing Lesson No. 4: If you make a mistake, take responsibility for it. Don't tell the customer "that's just too bad.".
If you have ever had a bad experience with United's baggage handling, please join me in emailing
Graham Atkinson
United Airlines Executive Vice President and Chief Customer Officer
Email: graham.atkinson@united.com