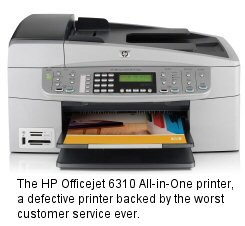 Two years ago I wrote a post called Worst Customer Service EVER about Hewlett-Packard's wretched customer support for printers. It's more worse than before ever and remains in the Hall of Shame.
The message is clear: HP printers are defective and their support matches the quality of the printers. I strongly advise you to buy any other brand of printer, or else you'll have to deal with these snakes.
It began when the scanner function stopped working on my HP Officejet 6310 All-in-One, which I purchased on January 1, 2007. The printer was only 14 months old and was working fine otherwise. So I uninstalled the original installation, and re-installed the software using the original CD that came with the printer. Unfortunately, it stopped installing the software at 19% progress.
I called HP technical support at (800) 474-6836 which immediately pointed out that printer was out of warranty. I asked if I could download the installation software on the HP site and they said no. They said I had to purhcase their support at $39 per hour. They said I could buy a replacement CD for $10. Having no choice, I bought the disk.
The replacement disk didn't work either. It would start installing the printer software, and mysteriously hang up midway and cease working. When I called HP tech support they again pointed out the the printer was out of warranty. I told them the printer seemed to be OK, but the problem was with the defective software they had just sold me.
They ignored everything I said and repeated that I had to buy their help for $39 per hour. They also said I should check the HP.com site, where I found a driver to get the device to print at least. Again, HP offered the worst customer service ever. Apparently, my HP printer was defective and their brand-new software was defective too -- and they didn't care. HP = horrible printers.
Here's the amazing part: they emailed me a survey asking about my experience with the useless bastards I had called. I rated them a "0" (worst) to "1" (next to worst) on every question. I hope somebody in their marketing or sales department gets the message: if you treat your customers like dirt, they will say bad things about you and never buy your defective HP products again.