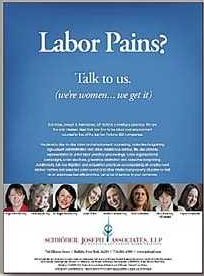 From the Buffalo News "Business Today" section:
An all-female Buffalo law firm is getting a mix of cheers and boos for a series of ads that tout its woman power. "Ever Argue with a Woman?" reads the headline of one of the ads for Schroder Joseph & Associates LLP.
"Labor Pains? Talk to us. (We're women . . . We get it)," states another in the series of ads for the firm that specializes in corporate labor and employment law.
"They're meant to be a little edgy and funny. If anything, we're poking fun at ourselves a bit," said Ginger Schroder, the firm's lead partner. "We never intended to engender a national debate on gender stereotypes."
In recent weeks, the marketing strategy has been the subject of Internet debate on the American Bar Association's Web site, as well as adrants.com, a site with an advertising industry following.
The main criticism of the ads, which play up the firm's feminine strengths, is that they perpetuate sexual stereotyping.
"Great, next they'll sell us on female surgeons because they sew better," reads a post on adrants.com.
A comment on the ABA Web site said, "Men Work Harder and Don't Take Time Off For Childbirth" or "How Many Women Play Pro Football . . . Women Are Weak," are two of the proposed male-centric ads.
"Sexism is sexism and humor is just a veil to excuse it," the ABA site comment concludes.
"I suspect that what gnaws at those who find this particular ad campaign troubling is that at the core of any stereotype, you often find a kernel of truth," reads a positive post on the ABA site. "That is what makes the ads effective, and, well, pretty darn funny."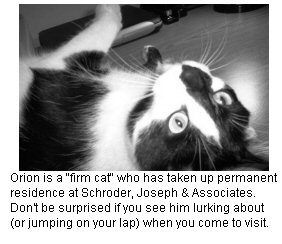 Schroder said she's completely surprised by the recent online debate. The ads, which have been appearing in Buffalo-area publications for over a year, have never attracted any local criticism.
The ads have appeared in Business First, Western New York Heritage, Buffalo Spree and national legal journals since spring 2007. In addition to the "labor pains" and "argue with a woman," the campaign also taps themes tied to sexual harassment and maternal instincts.
A Buffalo attorney who served on the New York State Bar Association's task force to establish lawyer ad guidelines that went into effect in 2007 said he's "a little uncomfortable" with the tone of the Schroder Joseph ads.
"I have a standing concern about any ad content that goes beyond the basics of education and experience," said Edward C. Cosgrove. "Anything cutesy and catchy makes me a little uncomfortable."
"I recently saw an ad for a downstate firm that suggested the male lawyers had an edge because of their masculinity, that they were brawlers in the courtroom," Cosgrove said. "That struck me as crossing the line."
A State Bar spokesman said the Buffalo law firm's ad have not resulted in any formal action against the firm tied to its year-old advertising guidelines. Those rules were put in place to govern misleading and inappropriate attorney ads, with particular focus on embellished testimonials, silly nicknames and inaccurate fee information.
Schroder Joseph employs four female attorneys and an all-woman support staff at its Ellicott Street offices. Their have a house cat named Orion.