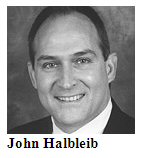 This article is now online (subscription required) at http://www.law.com/jsp/nlj/PubArticleNLJ.jsp?id=1202422369263. Visit here for a summary.
Attorney John Halbleib of Lemont, Illinois, alleges in a lawsuit that Mayer Brown breached its partnership agreement and fiduciary duty to him and engaged in common law fraud by misrepresenting the reasons for his demotion and eventual ouster. Halbleib v. Mayer Brown, No. 08-6221.

In the lawsuit, filed June 6 in Cook County Circuit Court in Chicago, Halbleib claims the firm really ousted him because it was seeking business from a Hershey rival, Nestle USA, and Halbleib's work for the association stood in the way because its opposition to a Hershey Foods Corp. sale represented a conflict of interest. Click here to view the complaint.
"Mayer Brown has reviewed the complaint filed by former partner and employee John Halbleib, and finds it without merit," the firm said in a statement. "We will defend ourselves vigorously and are confident of a positive outcome for the firm."

Halbleib joined Mayer Brown in Chicago as a partner in February 1996, after working at Vedder, Price, Kaufman & Kammholz, and Chapman & Cutler. See his online bio for more detail.
It all might sound like one more lawyer's career gone sour in the ever more competitive U.S. big-firm landscape, but Halbleib alleges in a lawsuit against the firm, now known as Mayer Brown, that there's more to the story.
Halbleib was riding high in June 2001. He'd just won a first-time pro bono award from his law firm, Mayer Brown Row & Mawe, for his work with the alumni association of a Hershey family founded school for underprivileged children and his leadership in the legal battle had been the subject of many news stories.

But by the following January, the law firm was asking him to leave because he didn't have enough fee-generating clients. Halbleib was "shocked," he said.

He pleaded with senior partners to let him stay on as a non-practicing attorney in charge of technology projects. They did, but four years later asked him again to leave, so he did.



6,000 hours of work
In early 1999, Mayer Brown appointed Halbleib to take on pro bono representation of the Milton Hershey School Alumni Association to resolve its dispute with the Milton Hershey School Trust over how a multi-billion dollar endowment left by the famous Pennsylvania chocolate family for the school should be spent, the lawsuit says.
Halbleib was suited to the task because as a teenager he had attended the school, which was dedicated to serving orphans and lower-income students. Halbleib was one of 10 children raised by a single mother after his father died when he was 10 years old. Over the next three years, he spent nearly 6,000 hours on the project and helped the association defeat an effort by the trust to change its mission, according to the lawsuit.
Given that work, Halbleib said in an interview that he "was not out building client relationships." So, he had little defense when two senior partners informed him in January 2002 that he was being expelled from the partnership and should leave the firm by July. Halbleib was eventually allowed to stay on through 2006 as a technology director.
Nestle connection alleged
It wasn't until last year, after looking for a new job, that he considered how his termination coincided with other events at Mayer Brown, he said. He started to see how his ouster was connected to the firm's pursuit of business from Nestle, he alleged.
He recalled a senior partner at the firm asking him in January 2001 to discuss "what Nestle would need to do in order to acquire Hershey Foods" Corp., the lawsuit said. Hershey Foods was controlled by the trust that also funded the school. Halbleib told the partner that the alumni association would object to a sale. In November, the senior partner circulated an e-mail saying the firm was representing Nestle in a search for acquisitions, the lawsuit alleges.
Halbleib also asserts in the lawsuit that the firm acknowledged in a July, 2002 memo that it "may become involved in the acquisition of Hershey Foods," and that it was working on a confidential matter for Nestle.
In July 2002, a proposed sale of Hershey Foods was made public, but by August the Pennsylvania Attorney General and the alumni association were seeking to block a sale, the lawsuit says. Mayer Brown declined to appear on behalf of the association in its opposition, though the firm continued to advise the association until March 2003, putting it in a conflict of interest, according to Halbleib's lawsuit.
Ultimately, after putting Hershey on the sales block, the trust rejected a top bid from Wm. Wrigley Jr. Co. and a joint offer from Nestle and Cadbury Schweppes in September 2002, according to news reports at the time.
Halbleib declined to say how much he's seeking in damages"