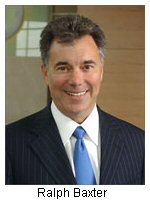 Orrick, the No. 27 law firm on the AmLaw 100, has hired a new CMO who has never worked at a law firm. It appears to be a continuation of the trend to hire CMOs from outside the legal industry.
I'd like to see what you think: is it a good idea to head up law firm marketing departments with people outside the profession?
Here's the internal memo from Ralph Baxter, Chairman and Chief Executive Officer of Orrick.
"I am very pleased to announce that Chris Matthews joins us today in the new role of Chief Marketing Strategy and Business Development Officer. Chris will be responsible for working with our Leadership Team and me to develop and execute strategies to raise our profile and support our business development and client relationship efforts. As we discussed at this year's partners meeting, raising our profile and continuing to strengthen the Orrick brand in all of our key markets is critical to our objective of competing among the world's leading law firms.

Chris brings extensive branding and business development experience on behalf of several of the world's leading financial services and consumer brands. He has served in senior roles at Washington Mutual, General Electric's Genworth Financial and MasterCard International. Earlier in his career, he was with Grey Advertising and Coca-Cola.

He will lead our talented senior staff of Jolie Goldstein, Chief Client Relations Officer, John Hodder, Chief Marketing Officer, and Allan Whitescarver, Chief Communications Officer, and their teams in executing an integrated approach to supporting the firm and our partners."
What makes this interesting its that is appears to be a stealth hiring. There is absolutely no mention of Matthews on the firm website, no press release, and he's not a member of LMA.