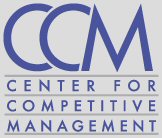 The Center for Competitive Management (CCM) is offering the following upcoming events:

Mentoring Associates: The Key to Retention, Development and Profitability
Thursday, June 5, 2008
How to Turn Your Paralegal Staff Into a Firm Profit Center
Wednesday, June 11, 2008
Implementation Strategies for Alternative Billing Success
Tuesday, June 24, 2008
CCM is the one resource that gives you an insider's advantage for staying on top of the issues in the legal profession. CCM's content is designed to help busy professionals with critical responsibilities and to improve the performance of their firms.
CCM is also conducting a survey on alternative billing methods, and they'd like hear from you. Your input is vital to the success of the survey. Please take a few minutes to fill out the survey. In exchange for your valuable feedback, you will receive a complimentary summary of the results.
Click here to take the survey: Alternative Billing Survey.