I bought my Dell Latitude D630 laptop from a booth at ABA Techshow in Chicago in March. I was so impressed with the booth staff's attention to my needs, that I bought it on the spot for a huge discount.
I never expected the wonderful call last week from Chris Estes in Houston, saying he was my personal account rep. Talk about excellent customer service -- I felt as if I had been assigned a personal shopper for me. He is a Sales Representative in the Business Systems Division, and spent time on the phone asking how the new laptop was working out. He said the one I bought is the same one that most Dell employees use for work, which made me feel cool.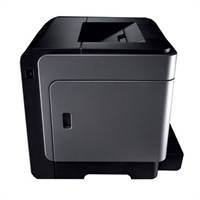 Then, like a good salesperson, he interviewed me about my business needs. I told him I write a lot of proposals and reports, and get a lot of 60-page research documents -- all of which overwhelm my modest little HP C4280 all-in-one printer. And the cost of ink was outrageous. I was spending $200+ per month in ink and sending out big jobs to FedEx Kinko's to be printed.
He told me about the Dell 1320c Color Laser Printer, which I could buy for $200 with free shipping -- a special deal from him. What I loved was that its toner cartridges can print 2,000 pages each and cost $59 for black. (Inkjet ink runs when it gets wet; toner pages are waterproof.) The speed for the laser printer is 16ppm black and 12 ppm color, with a maximum capacity of 35,000 pages per month. It comes with a 250 sheet drawer.
"Would you like my credit card number now?" was all I could say.
He told me to call him if I was having any trouble with my Dell equipment. The capper was his email summarizing the order, which stated under his signature block, "How am I doing? E-mail my Manager: ---@dell.com." The printer arrived two days later!
Law firm marketers can learn a lot from this experience.
It makes a big difference to a client to know they have a point person they can call when they need help.
A smart lawyer will interview his client about its business, asking probing questions to find out about latent client needs.
Always make it easy for clients to give you feedback.