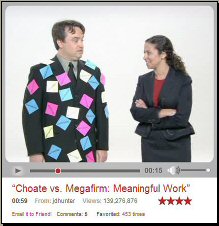 New research by Findlaw indicates that adding video to a law firm websites will bring in more business.
"Consumers research an average of 4.8 Web sites before choosing an attorney, but when video is added that number decreases to 1.8 because consumers feel more comfortable and are more apt to retain an attorney who they feel they know. The bottom line is video generates Web site hits and telephone calls, and it's an engaging, customer-friendly format.
My favorite video is YouTube and The Law Meet on Choate Recruiting Website which includes spoofs of the Mac vs. PC commercials that pit "Choate vs. Megafirm."
"In the crowded online marketplace for legal services, where Web sites struggle to attract attention, video is a terrific tool for communicating your unique message in a format consumers enjoy. A well crafted online video can help you connect with more prospects, and promote your firm in a way that's both personal and highly professional."
I totally agree. See Video is coming to law firm websites and Video: Why You Need to Pay Attention to Everyone age 28 or younger.