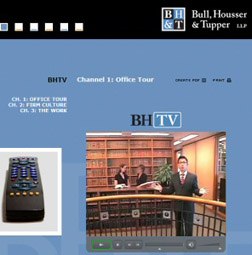 Citing the example of the recruiting page of the Vancouver, Canada, law firm Bull, Housser & Tupper, blogger Doug Jasinski, author of Legal Marketing Canada, says, "My personal view is that you can expect to see a great deal more use of both video and audio content on law firm websites in the year(s) ahead.
He offers 5 key reasons why:
Video makes a law firm's core offering - its people - the centerpiece of the marketing.
Video is an excellent tool to help law firms differentiate from their competitors.
Video is sticky, meaning that people will stay on your website longer.
Video is becoming more prominent both in other professional services and on the Internet generally.
Video is becoming less expensive and easier to produce over time.
I couldn't agree more. See my post "Video: Why You Need to Pay Attention to Everyone age 28 or younger."
law firm marketing