From the 6/30/08 issue of Forbes Magazine:
Philip Rosenthal and Edward Walters were young lawyers at Covington & Burling, a prestigious Washington firm, when they got an unusual request from a large corporate client to start looking up legal case histories on the Internet. The client was fed up with paying the firm's stiff bills for legal research.
At first they were shocked. Rosenthal and Walters were used to racking up hours on the online research services lawyers snidely call Wexis, after Westlaw, a unit of Canada's Thomson Reuters, and LexisNexis, owned by Anglo-Dutch publishing conglomerate Reed Elsevier. Big law firms pay as much as $4 million a year for access to Westlaw and Lexis.
This was in 1999. When the two lawyers started trolling for cases on the Web, they noticed courts around the country were beginning to post filings online. Why pay Westlaw and LexisNexis so much for documents that were already in the public domain?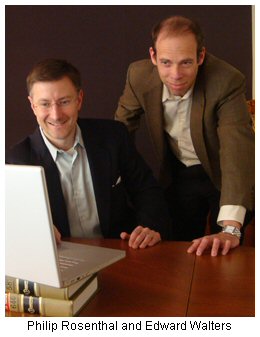 "The courts produce this stuff at taxpayer expense, it gets shipped to these foreign companies for free and then they charge us to read it," says Rosenthal, a Caltech-educated physicist who graduated from Harvard Law School.
"I thought, 'This is completely stupid. I've got half a mind to start the alternative to Lexis/Westlaw,'" adds Walters, who attended law school at the University of Chicago and was once a speechwriter for George H.W. Bush.
Eight years and $7 million later Rosenthal and Walters have their alternative, an online legal-research service called FastCase. It uses computer algorithms to perform all the case indexing now done by the thousands of human editors at Westlaw and Lexis. Operating out of a slightly seedy Washington office building, FastCase brings in less than $10 million a year in revenue, hardly a threat to the Wexis duopoly, which last year roughly split a combined $1.6 billion in pretax profit on sales of $6.5 billion.
Disruption is in the air, however. FastCase sells bulk memberships to state bar associations for as little as $2 per member per year, a compelling reason for law firms to at least try it out. Outfits like FastCase are attacking Wexis' stranglehold on legal research from the bottom up.
With the help of influential backers like Ebay founder Pierre Omidyar's foundation, Malamud's Public.Resource.Org is filling up a 24-terabyte Sun Microsystems server with case law going back to 1754. (That's a lot of bytes, enough to type out 12 million novels.) Malamud bought some data from FastCase while building his service, which is available for free on the Web. "If we do it and do it right, there are 100 other people who will copy our data and use it in interesting ways," Malamud says.
Bigger law firms will continue to use Westlaw and Lexis for a long time. The established vendors have the most current and comprehensive databases, and, says Thomas Fleming, lawyers know them best. Fleming oversees the research department at 150-attorney Jeffer Mangels Butler & Marmaro in Los Angeles. His firm uses FastCase for quick searches and to cross-check citations, but he says it has a "phenomenal niche" serving smaller firms that can't afford Wexis.
Those who would unseat Wexis have the arduous task ahead of digitizing all of the court records still in books. Optical scanning systems have a 98% accuracy rate, which means an unacceptable 40 errors per page. So FastCase and others are paying Indian data-entry firms 40 to 60 cents per 1,000 characters to "triple-key" the books into digital form, with three typists entering the text and a computer picking the version at least two agree upon. Malamud estimates it will cost $6 million to digitize all 10,000 books covering the entire history of district, appellate, Supreme Court and bankruptcy law. The Indian typists have to leave out the editors' notes in the Westlaw or risk copyright infringement.